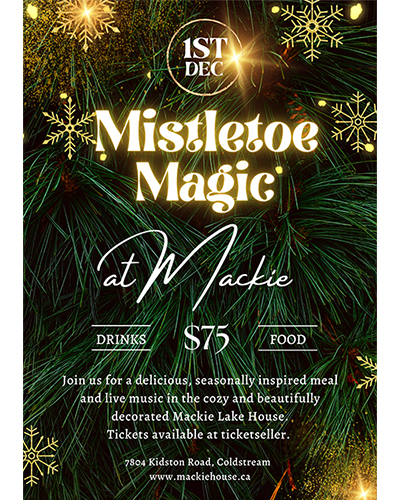 Mistletoe Magic At Mackie
When
Occurs on Friday December 1 2023
Approximate running time: 2 hours
Venue
Event Notes
×
Celebrate the magic of the holiday season at Mackie Lake House with friends, family, and food. Join us in the beautifully decorated Heritage House with an aperitif by the fireplace, and enjoy a delicious, seasonally inspired meal amidst a backdrop of lights and music. Let this traditional Edwardian mansion capture your imagination, just in time for the holidays! Be sure to bring your slippers—these 113-year-old floors tend to get chilly.
Three-course meal includes: 1 glass of wine, Christmas salad, herb buns, beef Tourtière, carrots cooked in butter sauce, potatoes with herbed gremolata, tea, and Christmas spice cake with warm caramelsauce and whipped cream.
The evening will also include door-prize draws for two tickets to the 2024 Music at Mackie Summer Concert series and two tickets for a private tour of Mackie Lake Heritage House.
Tickets are $75 per person, with all funds supporting the Mackie Lake House Registered Heritage Site. We are a non-profit organization with the mission to preserve and present the building, grounds, furnishings and related history of Mackie Lake House for the enjoyment and education of the public.