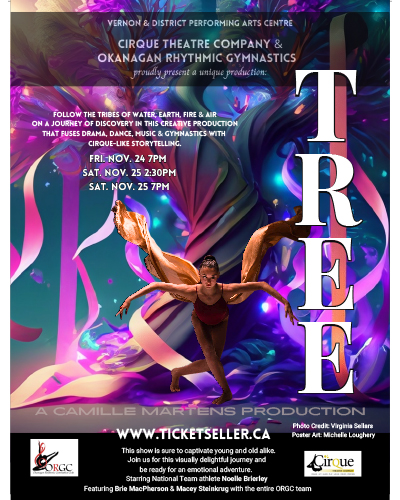 Okanagan Rhythmic Gymnastics Club
When
Runs from Friday November 24 2023 to Saturday November 25 2023
Approximate running time: 2 hours
Venue
Event Notes
×
This Camille Martens original production uses a dynamic fusion of drama, dance, music, gymnastics and cirque-like storytelling to relay the captivating tale of Flora, the blossoming mother TREE.
When the tribes gather to share in the harvest, the idea of scarcity is introduced. Tribes of water, fire, earth and air start to turn on each other, hurt grows into bitterness, judgement and accusations. When all hope is lost, will they find a way to come together or will the division be too strong?
This athletic and artistic endeavor has been creatively crafted to captivate young and old alike. Join us for this visually delightful journey and be ready for an emotional adventure.
Starring National Team Star Noelle Brierley together with Brie MacPherson, Halle Moger and Macey Steinkrug.