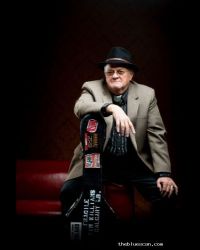 Tim Williams
When
Occurs on Friday September 29 2023
Approximate running time: 2 hours
Venue
Event Notes
×
$35 Per Person
*Includes all fees and charges
Doors open at 6:45pm - Show starts at 7:30pm
The Vernon Folk Roots Music Society opens its 10th season with Calgary blues legend Tim Williams.
American born, long time Canadian blues and roots artist Tim Williams began his career in the coffee houses of Southern California as a teenager, coming to the notice of Epic Records for whom he recorded his first LP in 1968. Having been inspired by the great country guitarists on shows like Town Hall Party (Merle Travis, Joe Maphis, and Larry Collins to name a few), the blues of Lightning Hopkins and T-Bone Walker, the Hawaiian music of folks like King Benny Navahi, and the Mexican music that was everywhere in Los Angeles at the time, Tim learned to slip easily from one style to another.
He moved to Vancouver in 1970. In 1974, after recording several country-folk singles for Vancouver labels, Tim left the city and the business for life as a horse wrangler and all-around ranch hand for several years, emerging long enough to record the LPs Writin' This Song and It's Enough To Be Remembered for the Dyna West label, and touring coast-to-coast in Canada.
His return to full-time performing began with his appearance at the 1988 Edmonton Folk Festival, where he wowed every audience he played to, won praise from folks like Jimmy Dale Gilmore, and was re-united with old pal Tom Russell. Since then it's been a steady stream of tours, recordings, and interesting side projects. A producer/performer on four JUNO-nominated projects (Triple Threat, Little Miss Higgins, Ray Bonneville, and Williams, Wayne & Isaak) and perhaps forty others, plus over a dozen solo and side group cds, Tim remains an active session musician and occasional producer.