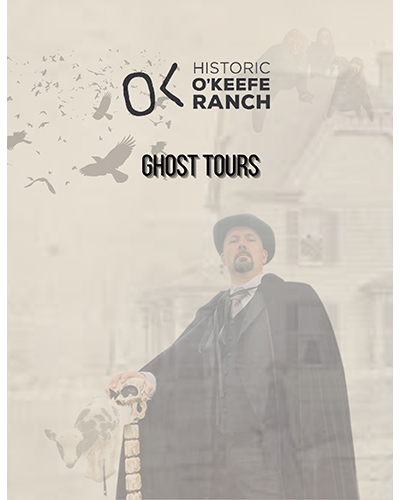 Okeefe Ranch Ghost Tours
When
Runs from Wednesday July 5 2023 to Wednesday August 9 2023
Approximate running time: 1 hour and 20 minutes
Venue
Event Notes
×
$30 per person
*includes all fees and tax
Embark on a spine-chilling adventure unlike any other as O'Keefe Ranch presents its exclusive Ghost Tours, available every Wednesday throughout the enchanting month of July. Get ready to explore the shadows, listen to whispers from the past, and experience the eerie tales that linger within our historic grounds.

Step into the darkness as the sun sets and the veil between the realms grows thin. Gabriel David Sumegi Newman the 2nd will lead you through the haunting corridors, sharing spine-tingling stories of the paranormal and unearthing the secrets that dwell within our historic buildings. O'Keefe Ranch's Evening Ghost Tours are not for the faint of heart. Prepare yourself for a chilling, immersive encounter with the supernatural as you experience the dark side of our historic site.

Discover the legends, folklore, and mysterious events that have unfolded over the years at O'Keefe Ranch. From tales of ghostly apparitions to inexplicable phenomena, you'll delve into the intriguing world of the supernatural.

Our Evening Ghost Tours are in high demand, so make sure to secure your spot early! Gather your fellow brave explorers, family, or friends and reserve your places for an unforgettable journey into the unknown.