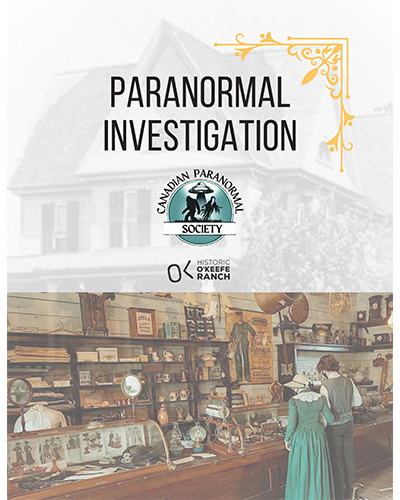 Paranormal Weekend At O'Keefe Ranch
When
Occurs on Friday August 18 2023
Approximate running time: 2 hours
Venue
Event Notes
×
Join us for an unforgettable adventure at the O'Keefe Ranch Paranormal Investigation Weekend! Step into the world of the supernatural and explore the mysteries that lie within this historic location. Get ready for an exclusive behind-the-scenes experience that will leave you with thrilling memories to last a lifetime.
When you purchase a ticket to our event, you're not just getting access to the paranormal investigation. Your experience begins with two nights of glamping or camping, allowing you to fully immerse yourself in the enchanting ambiance of the ranch. As you settle into your cozy tent, the anticipation for what lies ahead builds.
During the three-day event, you'll enjoy unlimited access to O'Keefe Ranch. Immerse yourself in the rich history and culture of the location by participating in the Family Day activities, including a mansion tour and wagon rides. Discover the fascinating background of the ranch, gaining valuable knowledge that will enhance your investigation experience.

But the real highlight of the weekend is Saturday, where you'll have the opportunity to work alongside the Canadian Paranormal Society. Engage in workshops that provide hands-on experience with investigation tools, learning the techniques and strategies used by experts in the field. From EMF meters to EVP recorders, you'll gain invaluable insights into the world of paranormal investigations.
As the sun sets, the excitement heightens. Enjoy a delicious dinner with the investigation team, indulging in delightful cuisine while exchanging stories and theories about the supernatural. And then, the moment you've been waiting for—the paranormal investigation of O'Keefe Ranch's haunted buildings. With exclusive behind-the-scenes access, you'll venture into the unknown, armed with your newfound knowledge and equipment. Who knows what secrets you'll uncover?

Choose the ticket option that suits you best: A private Glamping tent, perfect for an individual seeking an immersive experience. Or share the adventure with a friend or loved one by opting for a shared Glamping tent. Prefer to bring your own tent, camper, or trailer? We have a ticket option just for you. And if you can only join us on Saturday, don't worry—our day pass includes all the daytime activities and the thrilling nighttime investigation.
Don't miss out on this one-of-a-kind opportunity to explore the paranormal realm at O'Keefe Ranch. The event takes place from August 18th to 20th, giving you the flexibility to arrive early or extend your stay to fully enjoy the beautiful grounds.
Embrace the thrill of the unknown, expand your paranormal knowledge, and create lifelong memories at the O'Keefe Ranch Paranormal Investigation Weekend. Secure your ticket now and prepare for an extraordinary journey into the supernatural.