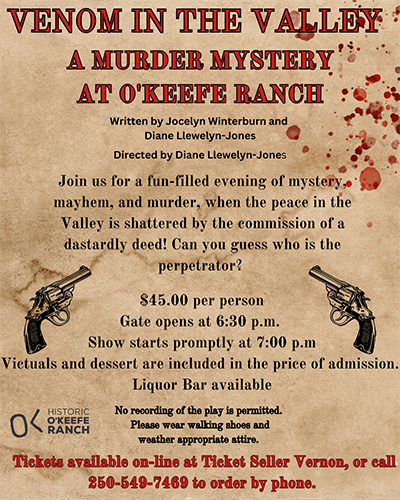 Venom in the Valley: an O'Keefe Ranch Murder Mystery
When
Runs from Friday June 16 2023 to Saturday June 24 2023
Approximate running time: 2 hours
Venue
Event Notes
×
In the late 1890's, the Valley is a thriving community. The ranchers, farmers, and townsfolk go about their daily lives, armed with the knowledge that it is a good, safe place to live. But then, there is a ripple, and it's not from the lake! Some folks become upset by the arrival of new ideas in the form of ladies from the east touting equal rights for women. It is not long before the peace in the Valley is shattered when the discontent leads to a dastardly deed! Will you guess who is the perpetrator? Join us for a fun-filled evening of mystery, mayhem, and murder.

Snacks and dessert included. Cash Bar available.
Gate opens at 6:30 p.m. Show starts promptly at 7:00 p.m.
Please wear walking shoes and weather appropriate attire.
No recording of the Play is permitted.