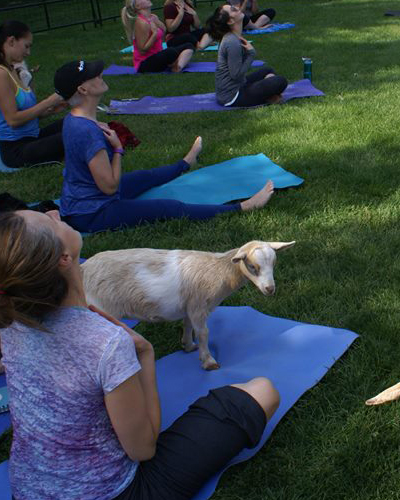 Yoga with Goats
When
Runs from Thursday June 1 2023 to Saturday September 2 2023
Approximate running time: 3 hours
Venue
Event Notes
×
Yoga with Goats is back! Join Samantha Richardson for a season of yoga with four legged friends.
Ticket includes a one hour yoga session prior to the Ranch opening. Yoga is located out doors in the company of the Ranch's goats. Each goat has its own personality to woo you over, whether they are looking for some extra scratches, trying to make you laugh or just want to take a nap under your downward dog, you never know what they will do!
Afterwards, enjoy the Ranches grounds, take a tour of the mansion, visit the general store and explore the buildings. Each ticket includes a complimentary general store candy bag. If you book on a Saturday, you can also enjoy the many role play artists including live music and song, demonstrations , school sessions and much much more. Allow yourself about 2 hours to see the grounds and another hour if you stay for lunch.