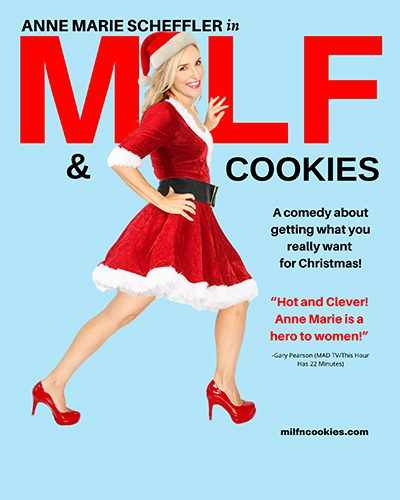 Milf and Cookies Presented by Rebecca Leboe
When
Occurs on Friday December 1 2023
Approximate running time: 2 hours
Venue
Event Notes
×
How can you have Christmas every day of the year?

With MILF and Cookies!
Loveable comedian Anne Marie Scheffler is back with her MILF Squad (Terry and Kendra) and this time they are on a quest to see Santa! So, after putting out some cookies for Santa (the kind that makes you giggle), the three BFFs navigate dating stories, life choices, ghosts of boyfriends past and an uber ride to see the man in red himself at the local shopping mall. Apparently, Anne Marie is now clearly sending out the signal to The Universe, and in a letter, she wrote to Santa, of what she really, really wants! And of course, it's the biggest love she could possibly imagine! Earth is just one big playground, according to Anne Marie's spiritual and sexy BFF Kendra, and life is a flesh vacation! So, grab your soul sisters, play with your soul mates and, if you dare, ask for the biggest love ever experienced in the universe! Anne Marie believes that life is just beginning. Ask for what you really want from Santa! And from Life! Life truly does get better and better! How good can you stand it?