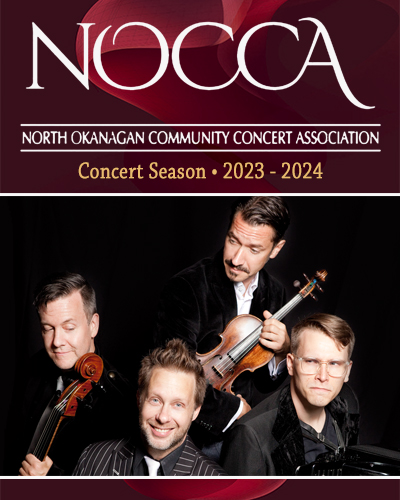 Quartetto Gelato
When
Occurs on Tuesday November 28 2023
Approximate running time: 2 hours
Venue
Event Notes
×
Quartetto Gelato is back in Vernon on Tuesday, November 28, 2023. With sold-out performances in New York, Washington, Los Angeles, London, Tokyo, Hong Kong and elsewhere, this dazzling ensemble has enchanted audiences and cities worldwide with its exotic blend of musical virtuosity, artistic passion and humour. With a performance repertoire that spans the globe and includes classical masterworks, engaging vocals, the sizzling energy of tangos, gypsy and klezmer songs, the groups theatrical stage presence and relaxed humour establish an intimate rapport with audiences worldwide.

Subscriptions of NOCCA's five concert 2023 - 2024 season may be renewed through Ticketseller at $150 for adults ($30/concert) and $75 for youth (22 and under).

We are very much looking forward to this upcoming season. We are continuing in our efforts to return to pre-Covid numbers, so we hope you will renew your subscription, and maybe encourage a few friends to become subscribers, as well. As we enter our second full season after the pandemic shutdown, we have not gotten over our delight at being able to be in a concert hall surrounded by beautiful live music again. Here's hoping we will always treasure our appreciation for live music.