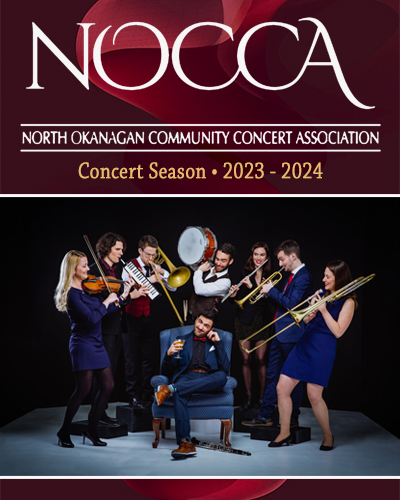 Oktopus
When
Occurs on Wednesday October 11 2023
Approximate running time: 2 hours
Venue
Event Notes
×
Oktopus is a major presence on the Canadian music scene, with over 250 performances to its credit at home and abroad, and will appear on stage at the Vernon & District Performing Arts Centre on Wednesday, October 11, 2023. The group is primarily devoted to klezmer - the musical heritage of Eastern European Jews - distinguished by a novel approach that incorporates various components of classical, Québecois, and jazz repertoires.
Subscriptions of NOCCA's five concert 2023 - 2024 season may be renewed through Ticketseller at $150 for adults ($30/concert) and $75 for youth (22 and under).

We are very much looking forward to this upcoming season. We are continuing in our efforts to return to pre-Covid numbers, so we hope you will renew your subscription, and maybe encourage a few friends to become subscribers, as well. As we enter our second full season after the pandemic shutdown, we have not gotten over our delight at being able to be in a concert hall surrounded by beautiful live music again. Here's hoping we will always treasure our appreciation for live music.