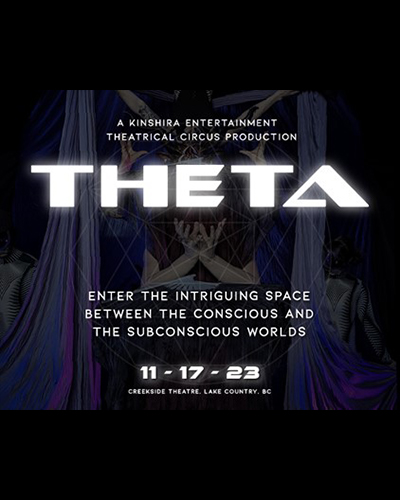 THETA by Kinshira
When
Occurs on Friday November 17 2023
Approximate running time: 2 hours
Venue
Event Notes
×
Theta State. The intriguing space between the conscious, and subconscious worlds.Your awake mind slowly drifts from Beta to Alpha then... Theta. Not quite asleep, but no longer awake or bound to this world.

You're daydreaming, about to slip into deep sleep, or entering the blissful flow state.Nothing else exists but you in this moment.

Before the pandemic in early 2020, we interviewed local creatives, recording conversations about their most interesting dreams, recurring dreams, and nightmares - what do they mean and what is their link to the creative subconscious? These compelling conversations, woven into the audio soundscapes, will be interpreted on stage using theatrics, aerial arts, and acrobatics for a thrilling and immersive ride through the layers of our subconscious.

Special thank you to our dreamers for sharing these experiences with us and allowing us to bring their dreams to life.
This production includes mature subject matter that some viewers may find offensive. Viewer discretion is advised.