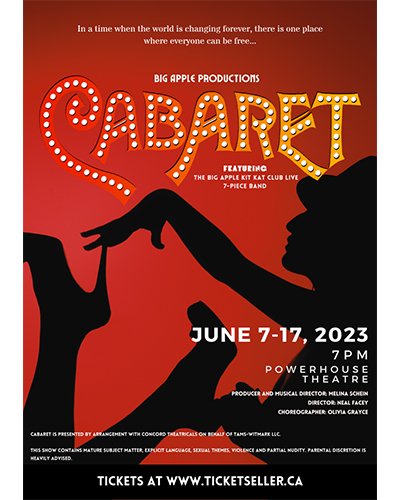 Kander & Ebb's CABARET
When
Runs from Wednesday June 7 2023 to Saturday June 17 2023
Approximate running time: 2 hours
Venue
Event Notes
×
Producer and Musical Director: Melina Schein Director: Neal Facey Choreographer: Olivia Grayce Featuring the Big Apple Kit Kat Club Live 7-piece Band In a time when the world is changing forever, there is one place where everyone can be free… Welcome to the Kit Kat Club. Home to an intimate and electrifying Vernon premiere production of Kander & Ebb's "CABARET." This is Berlin. Relax. Loosen up. Be yourself.
Cabaret takes place from 1929-1930, a time when Berlin, in the midst of a post-World War I economic depression, is transitioning from a center of underground, avant-garde cultural epicenter to the beginnings of Hitler's totalitarian regime and the rise of the Nazi Party. Into this world enters Clifford Bradshaw, a struggling American writer looking for inspiration for his next novel. On his first night in Berlin, Cliff wanders into the Kit Kat Klub, a seedy nightclub overseen by the strange, omniscient and gender-bending Master of Ceremonies, "the Emcee." Here, Cliff meets Sally Bowles, a vivacious, talented cabaret performer, and an utterly lost soul. Sally and Cliff begin a relationship, which blossoms unexpectedly into a dream-like romance. As time passes, however, the situation in Berlin changes from exciting and vital to ominous and violent; Ernst, Cliff's first German friend, turns out to be an up-and-coming member of the Nazi Party, and Herr Schultz, a fellow boarder at Fraulein Schneider's guest house (and Schneider's fiancee), is the victim of an Anti-Semitic hate crime. When he finds out that Sally is pregnant, Cliff decides that they must leave for America at once, before things get any worse. Sally, afraid, confused, and unsure that she'll ever really be able to trade the sexy, illicit cabaret lifestyle for motherhood, gets an abortion, and tells Cliff that he must leave without her. With a distinctly Brechtian dose of provocation and a score featuring songs that have become classics of the American Musical Theater, Cabaret is a fierce, meaty musical that pushes the boundaries of the form and literally holds "the mirror up to nature."
CABARET is presented by arrangement with Concord Theatricals on behalf of Tams-Witmark LLC. Show running time is 2 hours and 10 minutes, including a 15-minute intermission. This show contains mature subject matter, explicit language, sexual themes, violence and partial nudity. Parental discretion is heavily advised.