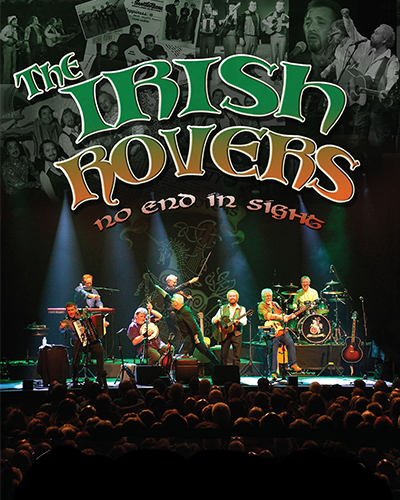 The Irish Rovers in Concert
When
Occurs on Saturday April 8 2023
Approximate running time: 2 hours
Venue
Event Notes
×
$64.25 Per Person
*includes all fees and tax
The legendary Irish Rovers return to our stage in 2023 for the ultimate night of Irish Music.
These music veterans continue to entertain and gain generations of fans, into their 6th decade. Last year the legendary band hit Spotify's VIRAL TOP 50 in both the US and UK/ Ireland. They also recorded a new album, No End In Sight and included their original 1977 version of The Wellerman (with an updated ending) plus a new anthem for our time, Hey Boys Sing Us A Song which was inspired by the last few years of frustrations. The song has been nominated Canadian Folk Music Awards' 2023 SINGLE OF THE YEAR and includes the welcome refrain, "We all need some happiness back in our lives!"
See Video:
Canada has been home to The Irish Rovers since the early 60s and their first international hit, The Unicorn. They went on to twenty years of international television shows and many more hits. Millar says, "It's been a bit odd, being from both Ireland and Canada. At times I've felt like a man with no country." This lead to the song, Band Without A Country from their 2020 album Saints And Sinners which tells the history of this 'band from god knows where!'
Get ready for a rollicking night of hits, and hilarious stories from their life on the road!