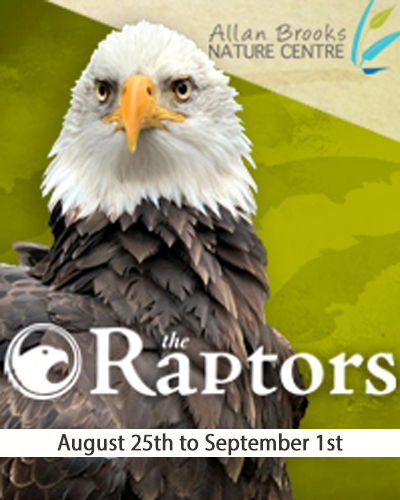 The Raptors - Demonstration
When
Runs from Thursday August 25 2022 to Thursday September 1 2022
Approximate running time: 0 hours and 45 minutes
Venue
Event Notes
×
Demonstration
$28 Adult
$25 Youth 5ys to 16ys
$25 Senior 65ys +
*includes all fees and tax
Daily at 10:30am & 1:00pm Click Here to BUY
Birds of prey have captivated humankind for generations. Often symbols of power, majesty and strength, raptors reign supreme in the skies with the ability to silently ambush the unsuspecting. Their only vulnerability: human influence. The Raptors "bring people closer to birds of prey, to educate, illuminate and inspire a sense of personal responsibility for the future of both birds of prey and the planet."

Two different presentations are available:
The DEMONSTRATION-- No direct interaction with the raptor birds. Large group of participants, educational and observational only with "Festival Seating". Two scheduling options per day. Click Here to BUY

The ENCOUNTER—Close intimate interaction with the raptors and their handlers. Limited to 6 people (ages 8 and up).
Four scheduling options per day and tickets are $97.25 per person.
Click here to Buy Now! - includes the Demonstration

The Raptors is an organization dedicated to inspiring conservation and protecting wildlife species. Demos include the raptors showing off their amazing flight skills as their handlers narrate and engage with visitors, discussing raptor ecology and conservation actions. Meet these majestic birds and learn what we can do to help them thrive in our natural world! The Raptors will be onsite for only 8 days, Wednesday August 25 – Thursday, September 1, for daily flight demonstrations in a group setting (approximately 45 mins), and up-close and personal encounters (approximately 1 hour). The Raptors travel all the way from their home in Duncan BC to come to the Okanagan, so do not miss the chance to connect with them at the Allan Brooks Nature Centre.

Please note: Seating in the Grasslands Theatre is made of wooden benches. Guests can bring a seat cushion or a lawn chair for more comfort and support. No food is permitted during the program but guests are welcome to enjoy a bagged lunch in our picnic shelter before the program. Water, Okanagan Ice Pops and popcorn are available to purchase onsite. Dress for current weather conditions including full sun. No pets allowed. Please make note at the time of booking if you have limited mobility so that we can designate a suitable area for viewing.

The ground is uneven but mobility parking is available nearby the Grasslands Theatre. No refunds.

Exchanges within 72 hours of the start of the program purchased. Ticket Seller can change dates and times with a minimum 72 hours notice, and only if space (if available). A full refund will only be issued if Allan Brooks Nature Centre must cancel the event for unforeseen circumstances such as poor weather conditions, which prevent the Raptors from delivering the program.