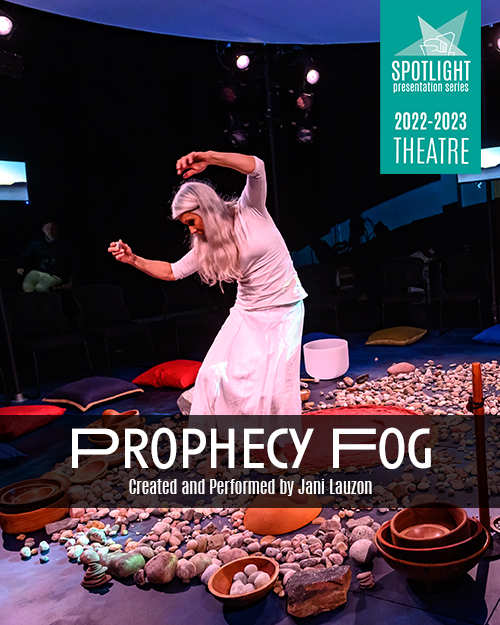 Prophecy Fog
When
Runs from Thursday March 23 2023 to Friday March 24 2023
Approximate running time: 2 hours
Venue
Event Notes
×
$30.00 All Seats
(Note: This is a dry event)
A new work by award-winning artist, Jani Lauzon, Prophecy Fog begins with a journey into the Mojave Desert in search of Giant Rock, armed with the question: can a site still be sacred if it has been desecrated?
We encounter a girl in the mountains of B.C with a pocket full of stones, the rainbow warrior's prophecy, and a mysterious inscription that obscures our past.
"We come from the stars, we are star people."
Prophecy Fog weaves together the performance skills of veteran raconteur Jani Lauzon and the expertise of Environmental Designer Melissa Joakim, along with Director Franco Boni to elicit a conscious remembering of ancient prophecies that speak to rock teachings, star beings and earth changes.
Duration: Approx. 75 mins
Age recommendations: 14+
Audience Advisory: Crystal Singing Bowls are activated during the play. The bowls are played for no longer than 1-2 minutes.
Please note that this is a general admission performance and patrons are seated both on chairs and on cushions on the floor. Patrons with mobility concerns are encouraged to select 'chair' seats when purchasing tickets online or contact the Ticket Seller Box Office to reserve their seating.