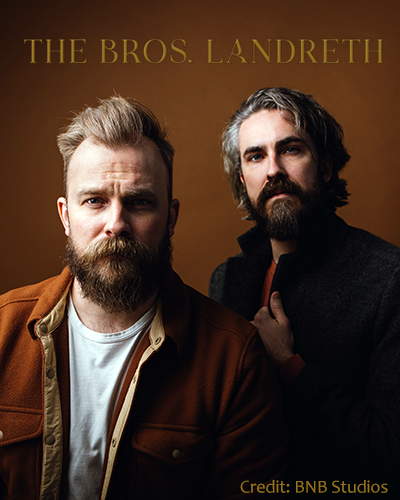 The Bros Landreth
When
Occurs on Thursday October 20 2022
Approximate running time: 2 hours
Venue
Event Notes
×
$39 (Including fees and charges)
The Bros. Landreth welcome a new day with Come Morning, an album that marks both a rebirth and refinement of the JUNO-winning band's blend of North American roots music and harmony-heavy soul.

The most immersive, emotive record of the Landreths' career, Come Morning finds brothers Joey and Dave lacing their melody-driven songs with layers of atmospheric synth, organ, and textured guitar. The group's previous albums shone a light on their strength as a live act, capturing the spontaneity and sonic stomp of a band of hard-touring road warriors. If those records unfolded like snapshots of The Bros. Landreth's nighttime shows, then Come Morning sketches a markedly different picture, showcasing the introspection and clarity that comes with a long period of rest.

For Joey and Dave, rest wasn't always an easy thing to find. From their early days attending their father's gigs as babies ("Mom would take us in the bassinet and stick us under the bar tables," says David) to their years logged onstage and, on the road, they've spent much of their lives being moved — both physically and emotionally — by music. After pursuing separate careers as sidemen, they launched The Bros. Landreth with 2013's Let It Lie, a debut album that drew upon the shared soundtrack of their childhood — Bonnie Raitt's blues, Little Feat's funky country-rock, Ry Cooder's eclectic instrumentals, Lyle Lovett's twangy traditionalism — for a sound that saluted the past while planting its flag firmly in the present. This was music for the heart and the heartland, with songs that evoked the American South one minute and the windswept prairies of the brothers' Manitoba homeland the next. Fittingly, the siblings spent years crisscrossing Canada and America in support of its release, then toured overseas as their popularity swelled.

Let It Lie won the 2015 JUNO Award for "Roots & Traditional Album of The Year - Group," earned The Bros. Landreth a nomination for "International Artist of the Year" at the 2016 UK Americana Music Awards and received praise from heroes like Bonnie Raitt. Building a global audience took a toll on the brothers, though, and Dave temporarily stepped away from the lineup for three years. Joey used that time to launch

Come Morning is a new dawn for The Bros. Landreth, featuring appearances from Leith Ross (whose 2020 debut was released on the Landreth's record label, Birthday Cake) and drummers Aaron Sterling and Daniel Roy. At the album's core are the Landreth's themselves: two born-to-collaborate brothers who sing songs about hard truths and new beginnings, having been brought back together during a time of unprecedented isolation.