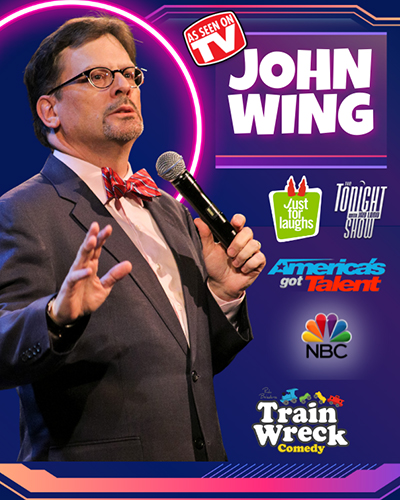 John Wing
When
Occurs on Friday September 23 2022
Approximate running time: 2 hours
Venue
Event Notes
×
John Wing, originally from Sarnia, has been a standup comedian for four decades. He has accumulated more than 350 television appearances in Canada and the U.S. He has performed on The Tonight Show, with both Jay Leno and Johnny Carson, Evening At The Improv, Comics, Standup Sitdown Comedy with Robert Klein, as well as two hour long CBC specials, "John Wing, Fly Me" and John Wing "The Elvis Years".

John has performed at more than 40 comedy festivals around the world, including ten Just For Laughs Montreal festivals. A regular on CBC radio's The Debaters, John also had his own radio show for two seasons on CBC, called "Man, Woman, & Child." In 2013, John was a semifinalist on NBC's "America's Got Talent" A regular performer in clubs and on cruise ships, John has traveled the globe bringing his humor with him. He has also published eleven books of poetry, a Memoir of his first 10 years of standup, and in 2021, his first novel, "A Car To Die For".
John lives in Los Angeles, meticulously maintaining his Canadian citizenship.