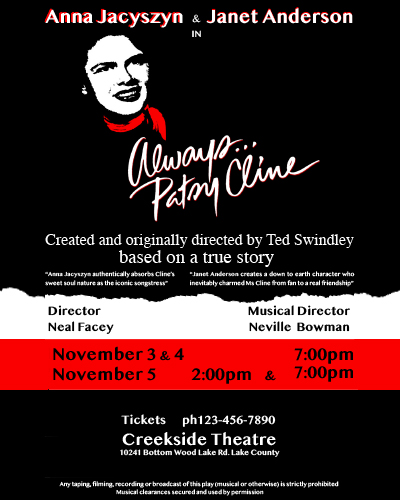 Arts Café Presents: "Always...Patsy Cline"
When
Runs from Thursday November 3 2022 to Saturday November 5 2022
Approximate running time: 1 hour and 40 minutes
Venue
Event Notes
×
$45 Per Person (Includes fees and charges)
Take a walk down memory lane with one of the most influential Country Music vocalists of the 20th century, Patsy Cline. Arts Café Presents: "Always…Patsy Cline". Starring award winning actress/singer Anna Jacyszyn as country-music legend Patsy Cline; and award-winning actress, Janet Anderson, as her fan and friend Louise Seger!

This is not just a tribute concert to the legendary country singer who died tragically in a plane crash in 1963, but a show based on a true friendship between Ms. Cline and a fan from Houston named Louise Seger, who befriended the star in a Texas honky-tonk in l961 and continued corresponding with Cline until her death. The musical play, complete with down home country humour true emotion and even some audience participation, includes many of Patsy's unforgettable hits such as "Crazy," "Walkin' After Midnight," "Your Cheatin' Heart," "You Belong to Me," "True Love" "Just a Closer Walk With Thee…27 irresistible songs in all! The show's title was inspired by Cline's letters to Seger, which were consistently signed "Love ALWAYS… Patsy Cline."

This good-natured honest comedy has "crowd-pleasing" stamped all over it, and with just two lead performers, a small band, and the built-in appeal of the Cline Country Classics, you will inevitably be tapping your toes and twitching in your seats to hit after hit. The dialogue will have you in stitches with all the cheeky banter leading to sentimental tears and back again. Anna Jacyszyn authentically imbibes her character revealing the sweet nature and soul of this iconic songster, while Anderson creates a no-fuss down to earth character who inevitably charmed Ms. Cline from fan to real friend.

Directed by Neal Facey under the musical directorship of Neville Bowman. Performed at Creekside Theatre, 10241 Bottom Wood Lake Rd, Lake Country. November 3,4,5 at 7 p.m. start with a Saturday matinee at 2 p.m.