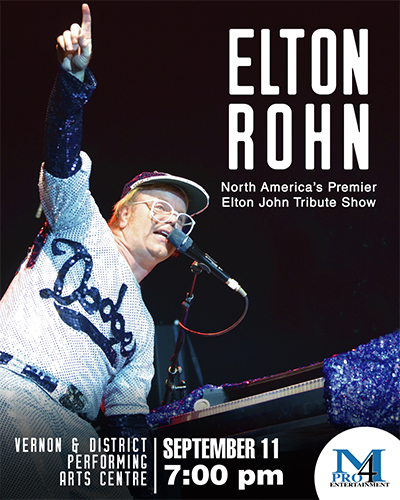 Elton Rohn
When
Occurs on Sunday September 11 2022
Approximate running time: 2 hours
Venue
Event Notes
×
$55 Adult
$50 Senior (60+)
$50 Student
$35 Child (12 and under)
Elton Rohn is thrilling audiences everywhere. Hailing from Toronto, Canada they have headlined over 350 theatres and festival shows in North America. All the way from Las Vegas to Atlantic City, California, Chicago, Philadelphia, New York, Myrtle Beach, Pennsylvania, across Michigan and upstate New York and all across Canada. They were the only Elton John tribute asked to play the Elton John convention in Las Vegas where they met the band. Davey Johnstone (Elton's long time guitarist and musical director) told the band they were the best 70's Elton John tribute in the world. Nigel Olsson ( Elton's long time drummer) said "Elton has a twin".
Audiences are amazed at just how close this show sounds to the real Elton John. As Elton, Ron Camilleri has the vocal, the piano, the look and the feel of the real Elton John performance. You'll feel like you are watching the real Elton John. The passion, energy and those incredible vocals are there. Plus the harmonies. Performed live (no tracks), the band is the closest you'll get to the real 70's Elton sound. Even Davey Johnstone thinks so. The band is a regular best in show at festivals and they've sold out theatres in major cities.
An Elton Rohn show is just like seeing another Elton John. The music is played 100% live. The musicianship is on an elite level. One trip to the band's website and you'll see hundreds of testimonials stating just how great this show is. This is a show not to be missed. The very best of Elton John.
Here is what people are saying…
"The stunning musicianship and the array of Elton mannerisms put this remarkable tribute at way up there in the big league"
Paul Russell, Freelance Journalist and contributor to Q107, Legends of Rock, former U.K.
"Yes, this is a tribute band, but so right on the money you forget you're not watching the real thing"
Bob Segarini, Toronto journalist and artist
"I film hundreds of bands. This is without question, simply the best tribute act I have ever come across"
Scott McWhinnie , Videographer, Toronto
"Elton Rohn is the best tribute I have ever seen in the industry! Elton Rohn is the essence of Elton John"
Debra De Stefano, Entertainment Public Relations, Chicago
"Elton Rohn is the best tribute on the planet. Period"
Ruth Ann Scanzillo principal cello , Bemus Bay Pops Orchestra, NY