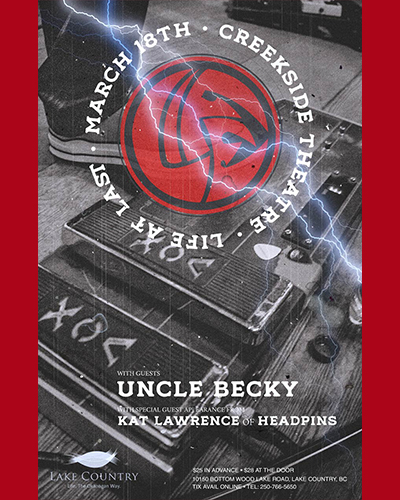 Life At Last
When
Occurs on Friday March 18 2022
Approximate running time: 2 hours
Venue
Event Notes
×
$25 In Advance
*includes all fees and tax
$29 At The Door
PROOF OF FULL VACCINATION WILL BE REQUIRED (2 dose)
Time to meet LIFE...

Life the band is much like it's meaning….made up of small parts that complete a picture or idea.
Now don't get me wrong it's not as serious as that but they take their music just as seriously as their sense of humor & talents.
Rock, that's it. It's all based on the best of yesterday and today. Life has not forgotten their roots but they are not pulled down by them either. Willing to experiment and bend the edges of the rock realm, they stand strong with their ability to write, create and tell good rock stories and memorable songs.
Just as with Life itself, you need to complete many sides of the same puzzle. Life is an experience, not 'like no other' like so many seem to claim but solid, tight and powerful. Having come through many obstacles such as Jeff (Drummer) being paralyzed from the chest down in a motorcycle accident, that does not stop the love for creating and performing music, they simply just find a way. Tenacity, dedication and drive are the mantra for LIFE.
LIFE recently completed a Debut 5 song EP mastered by Brain Lucey (Magic Garden - LA) and self Recorded, Produced & Written by vocalist John Buck but as with everything else was put on hold due to Covid-19 in 2020-2021and will be released Fall of 2022.
So just as we all get back to our normal lives as much as we can so too will LIFE. When we can we will see you on the road! Until then watch/follow/listen to all our social Media platforms and Streaming networks for future releases this year!
Stay Strong, Stay Hungry And Remember No One Gets Out Alive!
Life Website: https://www.lifepurerock.com/
Latest article from Gonzo on our wheelchair drummer -https://gonzookanagan.com/unstoppable-meet-the-wheelchair-drummer/