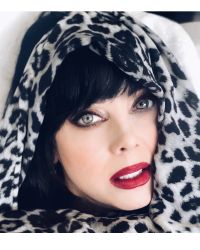 Bif Naked – Stories and Songs
When
Runs from Thursday February 17 2022 to Thursday February 17 2022
Approximate running time: 1 hour
Venue
Event Notes
×
$40 Per Person
*Includes all fees and tax
PROOF OF FULL VACCINATION WILL BE REQUIRED (2 dose)
BIF NAKED was born in secret, to a teenager living in India. The child of a Canadian girl and a British boy, she was rejected by both families, hidden away in a mental hospital from her diplomat-grandparents' society and politico friends. After being adopted by American missionaries, she eventually gained her and her adopted sister's release from India and return to North America. She endured a childhood of secret abuse, running away, targeted beatings by girl gangs, being institutionalized for alcohol abuse as a teenager and sexually targeted by adult predators. She escaped this early life by joining a punk rock band and left on tour, she married the drummer became pregnant and under extreme duress she aborted the unborn child and later the marriage and continued on a deadly downward spiral which culminated when she hit the floor of a Vancouver drug den overdosed. All of this before her21st birthday.

Through it all, her creative and academic potential, multiple personalities, and her unstoppable humor were her weapons of self defense. Bif showcased her life's journey etched in tattoo ink across her body and with her unique ability to transform her true-life stories into song lyrics, she found her voice as a solo artist, started her own record company Her Royal Majesty's Records and at 23 years of age became a Platinum and Gold Album selling International Recording Artist.

She embarked on international tours, feature films and television roles, only to be struck down with breast cancer at the age of 37. Bif discovered a passion for advocacy, and a triumphant return to health and what she cherished most of all- her own resilience, strength, and her unfaltering relationships with her adopted (dog) children.

Solo albums include the self titled album, Bif Naked, released in 1996, "I Bificus" in 1998 and Purge, released in 2001. A noted poet, she has also released a spoken word album called Okenspay Ordway: Things I Forgot To Tell Mommy. The Promise, which was recorded while Bif was undergoing chemotherapy for breast cancer, was released in 2009 and was dedicated to her fans.

She has toured Europe, the United States, and Canada as a headlining act, and has performed on bills with Green Day, Snoop Dogg, Billy Idol, Dido, Devin Townsend, Sarah McLachlan, Sheryl Crow, Chrissie Hynde, Foo Fighters, The Cult and more. Bif Naked has also made guest appearances with artists such as SNFU on the songs "One Last Loveshove" and "You Make Me Thick". In 2011, she recorded a duet with Vancouver yogi and Nettwerk recording artist Will Blunderfield for the international version of his album Hallelujah.

Aside from her music career, Bif is a university theatre major, and a Prairie Theatre Exchange graduate, also a sought-after actor. She was cast as Lead Actor in the Canadian indie films Lunch with Charles (2001) and Crossing (2005), the latter of which she recorded the song "My Greatest Masterpiece" for the movie. She was the host of the CBC Television series ZeD (becoming their first host in 2002). Bif Naked has appeared as herself in Buffy the Vampire Slayer, The Crow: Stairway to Heaven and The Chris Isaak Show.

She is heavily tattooed, getting her first, an Egyptian Eye of Horus, when she was 16. Her tattoos include a symbol of the Tao, Japanese writing, Buddhist poetry and images (such as the Bodhisattva), and Hindu imagery; she has stated on MTV that her favorite tattoo, on her left arm, reads "Survivor." Bif identifies as straight-edge. She is also a comic cartoonist. Bif has always been frank about her bisexuality, and the lyrics of her autobiographical songs (such as 1995's "Everything") detail her attractions to and relationships with women. She is also a strict raw food vegan.

Bif is a passionate Animal Rights activist, and a full-time cancer patient mentor and volunteer. Bif Naked spoke at the University of the Fraser Valley for International Women's Day on March 8, 2013, at the Abbotsford campus in British Columbia, Canada; and was awarded an honorary doctorate from the university in June 2013.