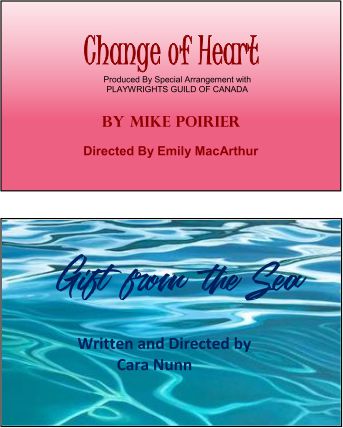 Change of Heart + Gift from the Sea
When
Runs from Wednesday October 20 2021 to Sunday October 31 2021
Approximate running time: 2 hours
Venue
Event Notes
×
All Seats $20.00
PROOF OF FULL VACCINATION WILL BE REQUIRED (2 dose)
Change Of Heart
Written By Michael Poirier, Directed By Emily MacArthur
Mary and Kathy Lithgow are spinster sisters who still live together in the inherited home where they were both born. Mary has always taken on the responsibility of managing their finances, and neither has ever wanted for anything. Kathy has never questioned Mary's role but…just how big is their fortune?
The Gift From The Sea
Written & Directed by Cara Nunn
"There are many Scottish stories about Selkies but the most common is a tragic story of theft, love and loss." Lari Don
On the dawn of her 21st birthday, the Selkie child embarks on an epic journey to discover her roots and feel the embrace of a mother's love. This story of redemption and connection is brought to life with full-face masks and larger than life puppets.
Discover the magic of "The Gift from the Sea".