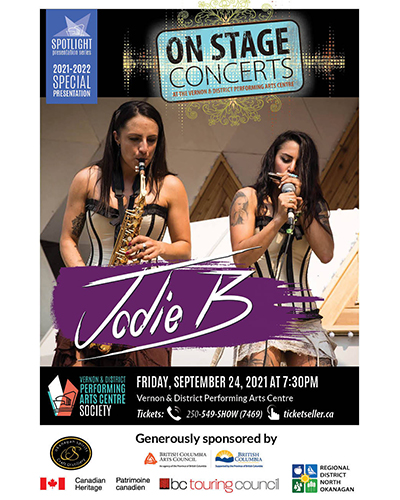 Jodie B - FOCUS Series
When
Runs from Friday September 24 2021 to Friday September 24 2021
Approximate running time: 1 hour
Venue
Event Notes
×
Please Note: Proof of vaccination for COVID-19 (at least 1 dose) will be required of ALL patrons ages 12 & up, to attend this event. In keeping with current Public Health and extended Interior Health orders, all patrons are reminded of the Province's mandatory mask requirement for all indoor public events.
The Vernon and District Performing Arts Centre Society (VDPAC) introduces a special edition of the Society's SPOTLIGHT OnSTAGE Concert series, proudly presenting Jodie B. as the inaugural performer in VDPAC's brand new FOCUS OnSTAGE Concert Series on Friday, September 24th at 7:30pm.
Jodie B is a live loop performer, multi-instrumentalist, and producer, performing as both a solo artist and as a duo with her sister, Nique. Her original craft is "a seamless blend of electro-soul, inspired by FKJ, Atmosphere, Rufus Du Sol, NomBe and DubFx". Jodie B performs with her guitar, violin, bass, harmonicas, synths, vocals and electronic drums, while her sister Nique Blue. specializes in saxophone, mandolin and harmonizing vocals.