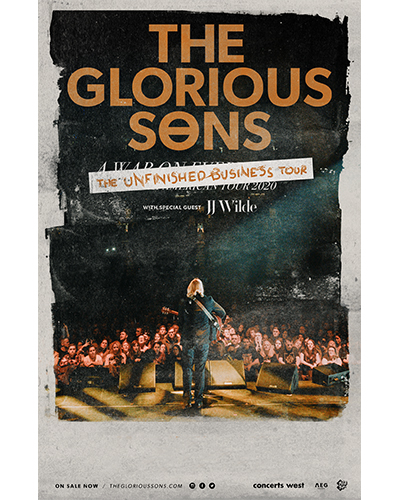 THE GLORIOUS SONS
When
Occurs on Sunday June 26 2022
Approximate running time: 2 hours
Venue
Event Notes
×
$56.00 Per Person
$211.50 VIP Seating
Platinum Seating Row D and E
Following the release of their brand-new tracks 'Daylight" and 'Young King' two-time JUNO Award-winning rock band The Glorious Sons have announced The Unfinished Business Tour, set to kick off December 2021. The Glorious Sons will play the Vernon and District Performing Arts Centre on January 25.


Presented by AEG Presents/Concerts West, tickets for The Unfinished Business Tour go on sale Friday, June 4 at 10am. The TGS Union presale begins on June 1 at [10am PT, 11am MT, 12pm CT, 1pm ET – Pacific Time] followed by the Spotify Fan First presale on June 2 at 10am local time.

Over recent months, the two-time JUNO Award winning group have been promoting an exclusive, limited edition poster series via the TGS Union mobile app. This series has been animated and each poster has been offered as a 1 of 1 minted NFT offer that includes a pair of season passes to all TGS shows in 2022, with 15 packages available in total. With the tour announcement, The Glorious Sons are offering a 1 of 1 version of all of the animated posters that includes a lifetime pair of tickets to any TGS show. The bidding on these items will be conducted via Rarible.com beginning at 1pm ET on May 27 and will be open for two weeks.

Last week the 2021 JUNO nominated group dropped the unexpected new song Daylight, released independently by the band and distributed via award-winning label Black Box. Produced by The Glorious Sons and written by Brett Emmons, Jay Emmons, Chris Koster, Adam Paquette and Josh Hewson, Daylight displays the unpredictable unmitigated kind of sonic catharsis fueled by emotion and unfiltered intensity that offers an awakening to the mind and body and invites audiences to wholly experience the band's palpable energy.

2021 looks to be the year of The Glorious Sons as they share a second new track this week with 'Young King'. Additionally, 'Daylight' received its world premiere broadcast debut on Saturday (5/22) during NBC and Sportsnet's coverage of the NHL Stanley Cup.