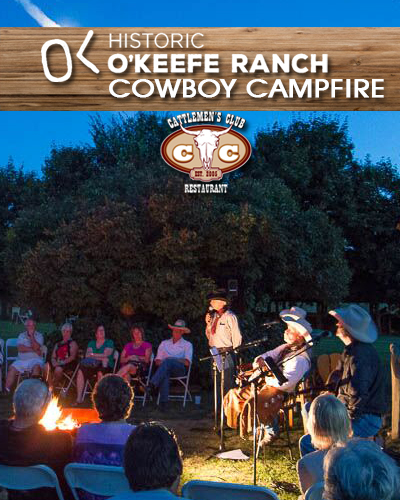 Cowboy Campfire
When
Runs from Friday July 3 2020 to Friday July 31 2020
Approximate running time: 3 hours
Venue
Event Notes
×
The sounds of a crackling fire as the day comes to a close. Cowboys gather around the campfire to share songs, stories and cowboy poetry of adventures on the open range. This part of the history continues today on the ranches in BC that had their beginnings during the gold rush in the early days of the province. The O'keefe Ranch is continuing its cowboy tradition as they treat guests to an experience that is sure to be the highlight of this summer.
The Cattlemen's Club Restaurant will be open for dine in or take our service prior to the show. Come in early and enjoy a tasty cowboy meal at your leisure (ticket prices do not include meals, please call 250-542-2178 for reservations, operating hours and menu options or check out their website https://cattlemensclub.ca/).
The evening will start with a self-guided tour of the Historic O'keefe Ranch including special viewing of the O'Keefe mansion, and many of the ranch sites that was at one time the hub of activities in the community. Experience history as the ranch comes alive. Guests also have the opportunity to become a cowboy/cowgirl for the evening as you learn how to throw a cowboy lariat (which will include a fun competition), and take a trip around the ranch on a hay wagon.
The evening concludes with an authentic cowboy campfire under the stars. Join Rob Dinwoodie and Open Range with historian, author and cowboy poet Ken Mather as they take you on a journey of the history of the BC cowboy. What are you waiting for? Pull on your boots and cowboy hat and be a cowboy for the evening.
This event is limited to 45 guests and will have all the necessary provisions in place to ensure your safety while you enjoy this fascinating event.