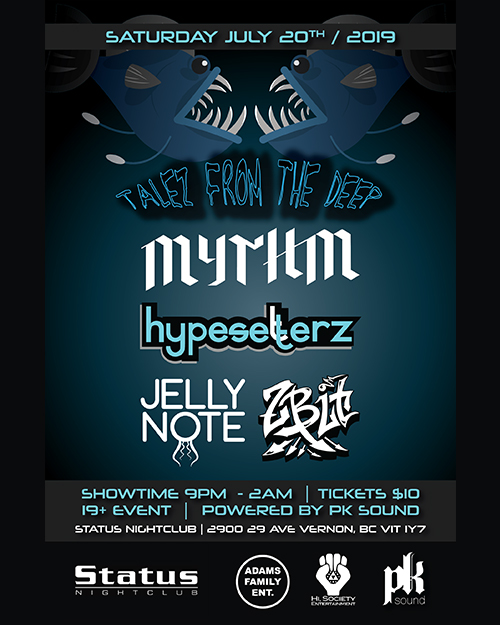 Talez From the Deep
When
Occurs on Saturday July 20 2019
Approximate running time: 2 hours
Venue
Performance Notes
×
~MYTHM is the unity of two progressive bass music producers, Strange Thing and Numatic. Residing in British Columbia, the two have contributed towards the growth of experimental bass music in the west coast. Having releases on respected labels such as Sound Museum, Sleeveless Records, Aufect Platinum, as well as performances at festivals such as Bamboo Bass, Electric Love and Burning man, the two combined have earned the respect and support from many.
Together the duo produces contemporary bass music characterized by a style that reaches the masses that are open to experimentation while incorporating analog and modular sound design into their production. Constantly creating, experimenting and learning more about their craft, the two are deeply rooted in the sound system culture. With the understanding of the hardcore continuum, they express the utmost respect towards the foundation of sound.
Art has been second nature to the two for most of their lives. It's the air they breathe and the spark that motivates them. This same spark is what led them to their passion for the creation of music. The three years for Strange Thing and two years for Numatic have been a journey of self-reflection and musical attunement. Their art has taken many forms over the years and is out of a shared enthusiasm towards music, the two have developed their relationship with one another personally and professionally.
The result of these two creative minds merging into one has brought a new level of inspiration and creative freedom within their production. What started as two individual artists collaborating has quickly evolved into the birth of MYTHM. The evolution of their entities as Strange Thing and Numatichas progressed into what they see as their best and most inspired work to date.
•Jellynote•
(Shambhala, MalLabel)
Born and raised on the Shuswap Lake, young Jellynote was exposed to a wide variety of sounds that little did he know would begin to shape his future musical journey. An avid listener of Hip-Hop and Metal/Post Alternative Rock growing up, his first eye opening experience with Electronic Music cameby pure chance. After winning tickets to see EDM pioneer Skrillex, he was instantly drawn to the production and performance that he recalls as being "revolutionary". At this time a bold and adventurous 21 year old Tim had followed his love of snowboarding to Sun Peaks, B.C. It is here that he befriended a resident DJ at the local club who took him under his wing and his DJ/Production career really took flight. Within 6 months he had taken up Ableton and a newly formed addiction to see the reaction of crowds of any size to the songs he had produced or remixed had begun. With a constant dedication to his craft, impeccable timing, diversity and a longing to be part of the progression of experimental bass music, Jellynote was born. His sounds, described as drippy, low end, space age hoodrat beats have captivated fans all across BC and culminated this past year in his first ever appearance at Shambhala Music Festival on the Amphitheatre stage. Undeniable stage presence and well received releases on highly reputable labels such as MalLabel have him poised to be one of the most exciting up and coming DJ/Producers in Western Canada.
•HypeSetterz•
"Hypesetterz (Brett Webster) is a hybrid electronic artist know for his diverse sound influences and high energy sets. After spending years as a touring/recording hip hop artist, Webster's eyes were opened to the amazing vibes and endless possibilities of the electronic music scene. In 2015 he made it his goal to bridge the gap from the hip hop to dance music worlds and has been blazing stages ever since.
Some career highlights to date include playing massives such as Center Of Gravity, Curiosity Music Festival, Soundwave, Bamboo Bass Festival (Costa Rica) and more. Hype has had the honour of touring with/or opening for some of the industries best such as; Dr. Fresch, Stylust Beats, RL Grime, What So Not, Bro Safari, Sikdope and many more. Production wise Hype's releases have amassed well over 100,000+ streams online. He has releases through Artist Intelligence Agency/Edm.com out of the US, a Beatport number 1 (Electro House) on No Tomorrow Recordings in the UK, and Speedsound Recordings out of Brazil. He's collaborated with the likes of Merkules, Kytami, Phonik Ops, Emotionz, Shrug, Delcaro, and has many exciting projects in the works. Look out for an exciting 2019 and beyond for this artist on the rise.
•ZBit•
(Shambhala pagoda stage)
~Hailing from Kelowna, British Columbia, Canada in the heart of the Okanagan Valley, ZBit is a dedicated DJ/Producer of G- House/Jackin House. He has independently released original productions such as "Bumpin" as well as his bangin' remix of Dave spoons' electro masterpiece "At Night" that he co-produced with musical mastermind Ace Jack. With an innate ability to mix ridiculously fresh music and producing dope beats, he gives the ravers in thecrowd what their hearts desire.
ZBit attended his first Shambhala Music Festival in 2007, after this life changing experience he knew for certain that he wanted to become a DJ and it would be his goal in life to one day play there. Shortly after, he bought his first set of Technics vinyl turntables. Inspired by music that he heard at the Y Afterhours and "Ministry of Sound - The Annual", ZBit has been infiltrating the underground house music scene and never looked back.
Since then, ZBit has explored the electronic music scene all across the world, stepping onto the scene in Edmonton, AB. He developed his skills from spending endless hours in the lab with his best friend and partner in crime, ShawnTon as well as various mentors at Y Afterhours. He started filling slots at local venues such as Twist Ultra Lounge for Electric Saturdays and Blueprint shows at Union Hall among many others.
In 2013, ZBit's DJ career was boosted after joining Tyco and Peep n Tom's entertainment company: Peep This Entertainment as well as Blueprint. This career choice allowed him to obtain lifetime goals of opening for producers Krafty Kuts, Felguk and Stickybuds. It also allowed him to develop a close bond with one of the biggest rising duo's from down under, Bombs Away which led to opening shows with them all across Western Canada.
After moving to Kelowna, BC in 2014, ZBit decided to follow his heart and make a major career move to start producing his own beats. This led to more Blueprint Shows in the Okanagan, playing at Sapphire and Level Nightclubs as well as Forest Awakening Festival in Sparwood, BC. ZBit has alsogained notice from Dr. Fresch who is an absolute boss in the G-House realm, and hosts one of the most popular house podcasts known as "The Prescription".During the summer months you can find ZBit on the farm at Shambhala Music Festival helping Robbie Campbell and other stage crew to build and rebuild one of the most notorious stages in the world: The Pagoda Stage. Be sure to catch him lighting up the dance floor at Shambhala, Forest Awakening, and other jammed packed events in the summer of 2019. Until then, ZBit will be barricaded in the studio and will be coming out hot with a ton of fire up his sleeves.