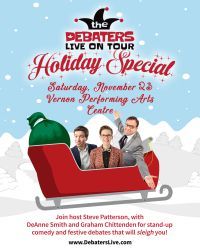 THE DEBATERS LIVE ON TOUR
When
Occurs on Saturday November 23 2019
Approximate running time: 2 hours
Venue
Performance Notes
×
67.25 - Adult - First 3 Rows
55.00 - Adult - Main Floor Rows D to P
42.00 - Adult - Balcony Rows AA to KK
The Debaters Live is coming live to Vernon on November 23rd with host Steve Patterson and guests Graham Chittenden and DeAnne Smith!

The Debaters Live Holiday Tour is the comedy stage show where comics go mistletoe to toe in a battle of laughs and logic and the audience picks the winner. This festive special features host Steve Patterson and two of Canada's top headlining comics performing stand-up and two hilarious debates in everyone's favourite comedy debate format.
But that's not all. Before Steve launches into the debate portion, The Debaters Live on Tour gets the holiday hilarity rolling with razor-sharp stand-up comedy from all three of these world-class comics.

The Debaters Live on Tour Holiday Special features two debates in the format familiar to fans of the popular radio show The Debaters. Program creator and tour producer, Richard Side, is excited to present this extraordinary line-up that will deliver the festive fun and will leave audiences debating only one thing: which part of the evening made them laugh the hardest.
These all-new comedic clashes are for live audiences only and will not be recorded for broadcast. No two live shows are ever alike so get your tickets now for a once in a lifetime experience.
About the Comics:

STEVE PATTERSON If you're familiar with Steve Patterson's comedy you'll know that he's one of Canada's quickest wits. As host of "The Debaters" he's made many of Canada's funniest comedians even funnier and proved that not all debate moderators have to be so, well, moderate. But Patterson is also one of Canada's very best standup comedians, proving that standup comedy can solve problems, even if only half-kiddingly. In this format, live audiences are treated to all of the many weapons in Patterson's comedy arsenal. From up-to-the-moment commentary to heartfelt open letters to songs that strike a perfect harmony between silly and smart,
fans of The Debaters will love the expanded role Patterson plays in The Debaters Live On Tour. He will delight those already familiar with his standup and pleasantly surprise those who are not.


DEANNE SMITH, the humble person writing this bio, is an international comedy sensation. Her video from the Winnipeg Comedy Festival "Straight Men Step Up Your Game" has been viewed over 47 million times, and her critically-acclaimed Netflix special, Gentleman Elf, is available as part of the Comedians of the World series. She's performed everywhere from Iceland to New Zealand and is a regular at both the Melbourne International Comedy Festival and Montreal's prestigious, invite-only Just for Laughs Comedy Festival. Time Out Melbourne says she "blends smart and silly subjects with expert conviction" and the UK Telegraph says she's "Very funny. Effortless charm lets her get away with murder." She's currently developing a show with CBC. She's never actually murdered anyone.

GRAHMAN CHITTENDEN is a familiar face at the Just for Laughs festival, as well as on Just for Laughs tours, coast to coast in Canada and as far away as Bermuda. He has shared the stage on the theatre tours of Howie Mandel, Gad Elmaleh, John Pinette, Brent Butt, Bob Saget and more.

Graham has his own award-nominated special on CTV, has hosted talk shows on MTV, and The Comedy Network, and written for shows such as CBC's Mr. D and Still Standing. You may also recognize his voice from CBC Radio's acclaimed comedy show, The Debaters. Graham's new one hour comedy special "Reluctant Adult" premiered on CraveTV in 2018.

Testimonials and quotes from audience members:

"I don't think I have laughed that much in years - at one point, I thought my face was going to fall off because I was laughing so hard. Your comedians (and host!) were very funny, and gave a great performance. It was money well spent on the tickets. "

"That was off the hook…the bar has been raised again."

"Canadian Comedy that is world-class"

"This is the first that I have been to where there was actually more laughter than silence during a performance. Steve, Kate and David were fabulous, their humor was current and relevant and…they really know how to entertain. The time flew by. The Debaters Live are Awesome! "

"Very funny show. If you love comedy then this is a must see."
Disclaimers:
Due to the spontaneous nature of live performances, some language may be inappropriate for younger audience members.
This is not a CBC production and will not be broadcast.