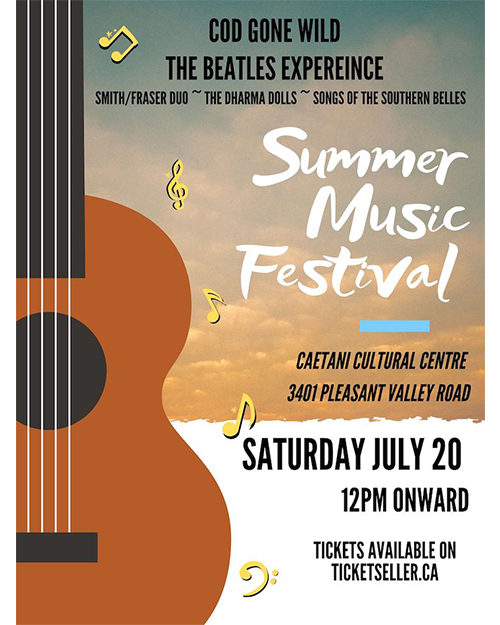 Caetani Music Festival
When
Occurs on Saturday July 20 2019
Approximate running time: 2 hours
Venue
Performance Notes
×
$64 All Day - 19+ only
$28 Adult - Afternoon Pass Only
$12.50 Youth - Afternoon Pass Only

$38 Adult 19+ - Evening Pass Only
Introducing the first Annual Caetani Music Festival. This year as opposed to doing a Music Series, we are going to do a one day long music festival, celebrating music and bringing together high caliber performances for people to enjoy on the beautiful grounds and natural amphitheatre located at the Caetani Cultural Centre, 3401 Pleasant Valley Road, Vernon.
Whether you just want to come for the afternoon or evening concerts or if you want to spend the whole day with us, we'll have you covered with food trucks and a cash bar from 12:00 pm to 10:00 pm and of course an unbelievable line-up of talent and fun for the whole family!

Schedule:

12:00 pm – Doors Open
1:00 pm – Songwriters Showcase
2:15 pm – Smith/Fraser Duo
3:30 pm – Dharma Dolls
4:45 pm – Cod Gone Wild
6:00 pm – 7:30 pm – Break (patrons with all-day tickets are welcome to stay on site)
6:45 pm – Doors Open for Evening Show
7:30 pm – Songs of the Southern Bells
9:00 pm – The Beatles Experience from Argentina
Smith/Fraser Duo
Smith and Fraser are caught in the middle between folk and jazz – and the result is magic. Master musicians, their concerts reflect influences as diverse as Django Rheinhart, Bruce Cockburn, Dave Brubeck and James Taylor. They play a mix of original and classic tunes, that keep delighted audiences guessing.

Andrew Smith is a troubadour whose music has taken him all over the world. He is an accomplished singer songwriter, a captivating tap-style guitarist and an award winning music producer. He is one of the few Canadians to have won the prestigious Kerrville Newfolk Songwriting Competition in the USA and his instrumental cd escape velocity won him the Okanagan Instrumental Artist Award. Andrew is also a recent winner of the Okanagan Arts Awards in the category of Music.

Neil Fraser is a master guitarist, studio player, composer and arranger. Coming from a background of Jazz, Blues and Roots music, he is a highly respected and sought after musician and music teacher. Influenced by Django Reinhardt, Wes Montgomery and Eric Clapton, he likes to take chances and takes the audience along for the ride.
"Absolute Worldclass" The Saxony Times, Dresden Germany

"Just got a pre-release copy of Stumbling Horse. I liked it instantly, admiring not only the harmonies, the great musicianship and the variety of styles and sounds, but also how there is room for both the political and the personal to meet in their music."-- Julie Miller CFLXRadio,Sherbrooke,QC


"Smith has a great singing voice, and his chops are punctual and clean" - Penguin Eggs
The Dharma Dolls

Fabulous, magical and fun - The Dolls bring opera, jazz, broadway, groovy originals and girl power to the stage.
Tanya Lipscomb – Singer/Songwriter Extraordinaire
Judy Rose - Jazz Chanteuse
Melina Schein - Opera Diva
These three ladies are impassioned with what they were born to do... to live their dharma by sharing their love of their music.... their show will make you laugh, cry and leave you breathless.

Cod Gone Wild

This Celtic inspired band is focused on giving traditional music a modern edge. They blend the varied talents of musicians whose classical, folk, rock and jazz backgrounds fuse together to create a dynamic and unique sound that instantly connects and resonates with audiences. Through their uplifting energy, tight vocal harmonies and remarkable stage presence, they weave together a tapestry of tales that evoke a nostalgic experience of days gone by.
Based out of BC's Okanagan Valley since 2009, after lead singer/multi-instrumentalist Andrew Mercer, transplanted from Newfoundland. With him he brought his passion for Newfoundland, their rich culture and most importantly, the music.
Joining Mercer are musicians Susan Aylard (fiddle), a classically trained violinist, who also currently performs with the Okanagan Symphony Orchestra and has performed in orchestras all over the world. Sean Bray (electric guitar), a well-respected guitarist that studied at the Manhattan School of Music. CBC Radio named Bray as one of Canada's top 50 guitarists of all time. Rounding out this talented group of musicians is David Mihal (Drums) a studio drummer for artists all over the world who has toured with the likes of Rita Chiarelli, Shawne Jackson (Domenic Troiano), Oliver Jones and Refugee forerunner Michael Fury.

Songs of the Southern Belles
Songs of the Southern Belles is a concert celebrating the masterfully written melodies and lyrics of an age when country music reigned throughout the airwaves and local dances. This evening of pure gold-record entertainment is set in the traditional style of the Grand Ole Opry. Singers Anna Jacyszyn and Kinga Heming will relive the stories told through songs originally sung by Nashville Royalty like Dolly Parton, Tammy Wynette, Patsy Cline, Loretta Lynn and many others. Under the music direction of Sean Bray and the 'Sounds of Nashville' band of musicians, this evening promises a walk through memory lane with a fresh scent of nostalgia.
The Beatles Experience

The Beatles Experience is a world class Beatles revival Tribute band. They were formed in 2011 in Buenos Aires, Argentina. In 2014 they won the "battle of the bands" in the 14th Annual Latin America Beatles week, organized by the Cavern Club, Buenos Aires. Two of the bands members have been awarded "Best Guitar Player" for 3 consecutive years and best drummer in 2013.
They have toured Western Canada twice in 2015 and 2018 and their performances were received with great enthusiasm. This was followed with playing in the Cavern Club Liverpool during Beatles week, making those years exceptional ones!
Be prepared to be transported back in time and relive your youth with this authentic tribute.