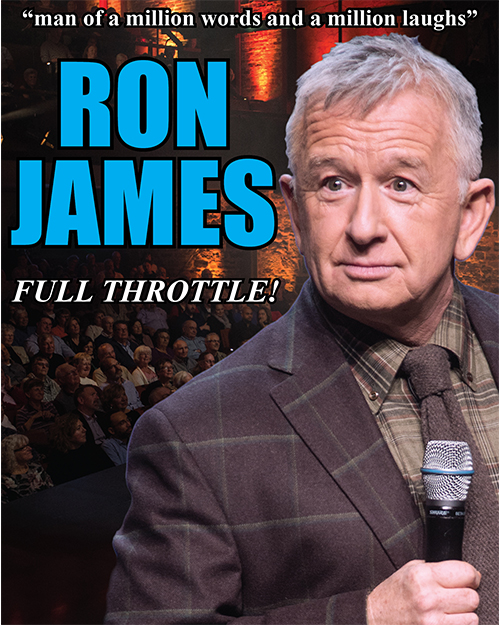 RON JAMES - FULL THROTTLE!
When
Occurs on Saturday September 21 2019
Approximate running time: 1 hour and 45 minutes
Venue
Event Notes
×
Award-winning comedian RON JAMES has been selling out theatres for 15 years with his marathon, side-splitting, kinetically charged performances. Marshaling a comedian's eye for satire and a writer's ear for language, Ron takes his audience on a breath-taking, non-stop roller coaster ride, cutting a wide swath through contemporary culture with his razor-sharp ribald wit, uncompromising standards and unique, poetically honed delivery ... a stand-out amongst 'stand-ups'.
With nine critically acclaimed one-hour comedy specials under his belt, plus five seasons starring in his own series, "The Ron James Show", Canada's #1 road warrior is back doing what he does best: delivering laughs face to face and coast to coast ... a high-octane Full Throttle ride! "a man of a million words and a million laughs ... genius" - Globe & Mail
"Utterly Brilliant" - Ottawa Sun
"a unique brand of funny all his own" - Winnipeg Free Press
"hysterically funny ... at the top of his game" - Toronto Star
"fits of helpless laughter" - Halifax Chronicle Herald
"funniest man in Canada" - Victoria Times-Colonist
"a wheezing, snorting, chortling, gasping night of hilarity" - Edmonton Sun
"fast, funny and smart" - Montreal Gazette
"simply the best" - Toronto Sun
"thunderous standing ovation" - Saskatoon Star Phoenix