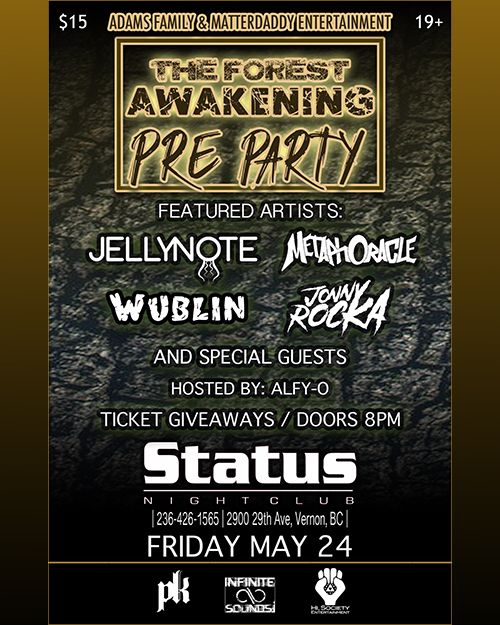 Forest Awakening MF Pre-Party
When
Occurs on Friday May 24 2019
Approximate running time: 2 hours
Venue
Event Notes
×
$15 Adult 19+
$20 at the door
Hi, Society Entertainment & Adams Family Entertainment Proudly Present
••||The Forest Awakening Pre-Party||••||••Jellynote, Metaphoracle, Wublin and Jonny Rocka••||•AND SPECIAL GUESTS•||
•••Hosted by Alfy'O•••
Date: May 24th, 2019
Location: Status Nightclub, Vernon
Time: 7:00pm - 2:00am
Age: 19+
Come out early & support your local talent!!
•Powered By 20,000+ Watts of PK Sound
•Intelligent Lighting and Lasers by TBA
•Visual Entertainment Provided by TBA
•Custom Stage Design by Hi, Society Entertainment
•Photography Provided by Liah Laurino
•Artists•
•Jellynote•(Shambhala, MalLabel)
https://www.facebook.com/jellynotemusic/
https://soundcloud.com/jellynotemusic
https://www.instagram.com/jellynotemusic/
~Born and raised on the Shuswap Lake, young Jellynote was exposed to a wide variety of sounds that little did he know would begin to shape his future musical journey. An avid listener of Hip-Hop and Metal/Post Alternative Rock growing up, his first eye opening experience with Electronic Music came by pure chance. After winning tickets to see EDM pioneer Skrillex, he was instantly drawn to the production and performance that he recalls as being "revolutionary". At this time a bold and adventurous 21 year old Tim had followed his love of snowboarding to Sun Peaks, B.C. It is here that he befriended a resident DJ at the local club who took him under his wing and his DJ/Production career really took flight. Within 6 months he had taken up Ableton and a newly formed addiction to see the reaction of crowds of any size to the songs he had produced or remixed had begun. With a constant dedication to his craft, impeccable timing, diversity and a longing to be part of the progression of experimental bass music, Jellynote was born. His sounds, described as drippy, low end, space age hoodrat beats have captivated fans all across BC and culminated this past year in his first ever appearance at Shambhala Music Festival on the Amphitheatre stage. Undeniable stage presence and well received releases on highly reputable labels such as MalLabel have him poised to be one of the most exciting up and coming DJ/Producers in Western Canada. Make sure to catch this Trap Lord rocking the dancefloor directly before The Librarian!
•MetaphOracle (Smokey Crow Records, Really Good Recordings, Arcade)
https://www.facebook.com/metaphoracle/
https://www.soundcloud.com/metaphoracle
~Tightening his grip on his signature style, MetaphOracle brings his throwback sound and smashes it into the future. His life-long affair with music has turned to lust as he continues to flourish within the evolving west-coast music scene. Continuously adding to his collection of originals, he incorporates his trumpet into a truly unique performance style. Known for is diverse sets, it's hard to expect what this musician will drop next but you can expect it will be overflowing with his gangstalicious steeze. With his trumpet at his side he stands poised to add the kind of depth and authenticity that only a live musician can bring. Moving seamlessly from a wealth of hip hop and fat basslines to a live Funk act, MetaphOracle is a true performer. Taking you from a glitched out, deeper trip on to another journey through the hood-rich, krunky bass sound that he loves, attitude is definitely included. With this kind of quality in a live show and a steady flow of seductive new releases, we can expect to a lot more of him in the near future. Meanwhile MetaphOracle plunges into the musical unknowns, hidden behind a veil of mystery and suspense.
•Wublin•
https://www.wublinbassmusic.com/
https://www.facebook.com/wublin
Based out of Kelowna, BC, Wublin AKA Ryland Laflin has been around the festival scene since a young age. First introduced to the electronic scene at local festivals such as Fozzy Fest and Motion Notion. The atmosphere and family vibe of these parties was all it took to inspire this this young artist to take the decks himself. After 3 years of local music shop lesions and YouTube tutorials, and a residency at a local night club, Wublin joined the Centre for Arts And Technology and enrolled in the audio engineering program to gain new kwowledge in fundamental music production and theory, sound design, music and sound fx for tv, film, video games, ad well as live sound set up & studio recording techniques. All while smashing performances at festivals and clubs across Western Canada, sharing the stage with some of the biggest names in canadian bass music such as Mat The Alien, Defunk, K+Lab, Woofax, Abstrakt Sonance, Perkulator, Joe Nice, The Arcturians, Jellynote, Leo Zen and many more.
•JonnyRocka•
https://www.facebook.com/jonnyrocka/
~Canada BC based Jonny R. has been killing the (music/break) scene since the late 90's, undeniably standing out through the art and craft of live DJing. A story that begins with a passion for hip hop culture. Jon went on to chase a dream and through hard work and dedication, became a respected and seasoned dancer by showcasing his unique bboy style and destroying dance floors with raw talent, never passing up and opportunity to battle. One passion lead to another when dancing unveiled a world electric bass music.
From his bboying experience came a natural understanding of what it takes to move and and groove a dance floor and creates sensational state of the art mixes. Rocka's sets leave his fans intoxicated while keeping their energy alive and thriving on the dance floor. Heavily influenced by his friends Datsik (of Ephwurd) and Stylust Beats (Jvmpkicks) Rocka was encouraged to elevate his skills, taking on bigger dance floors and even bigger parties that took him on an international journey at a young age. Rocka's heavy bass line and intricate song selections are to be heard to appreciated as his sound resonates with crowds globally. Discover an endless catalog of beats from a high curated selection of unreleased dubplates by the one and only. Jon will shake the place, hypnotizing the fans, keeping the energy alive and thriving on the dance floor.
••••Hi, Society••••
Developed by a dedicated collective of individuals, fueled by their passion of music, arts, and progressive social action and interaction, 'Hi, Society Entertainment' is channeling a wave of creative, collaborative efforts, in order to create a FUN, inspiring, and potentially LIFE CHANGING music experience. Expect friendly, eclectic people, good music, and an open atmosphere!
Get Involved! Visit www.hisocietyentertainment.com for more info!!