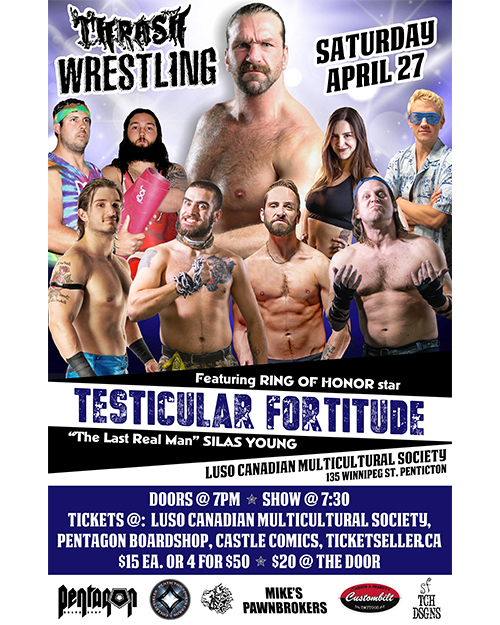 Testicular Fortitude
When
Occurs on Saturday April 27 2019
Approximate running time: 2 hours
Venue
Performance Notes
×
When it comes to awesome wrestling, Thrash always brings the best of the best to entertain its fans, and this main event show is no exception. Ring of Honor star "The Last Real Man" Silas Young joins the roster of Thrash Wrestling as they return to the Luso to pack the house and entertain the masses!
"Cougar Meat Kid" Collin Cutler takes on the Man himself, Silas Young, in one-on-one action! The Okanagan native is one of the top wrestlers in BC and is sure to push "The Last Real Man" to his limits in a wicked match-up!
The new Okanagan Interior Champion Jade takes on all challengers this weekend including her own boyfriend Slave the Homicidal Maniac Each have a few screws loose, and their relationship hasn't held them back from beating each other senseless in the past!
In order to determine who is the number one contender for the Thrash Wrestling Championship, a mini tournament will be held with the winner getting a title shot!
Chucky Lee Ray vs. Ace Redmann Junior Jayce D'Arcy vs. The Legendary Black Dragon And the Thrash Tag Team Champions "The Dudes of Aviation" Sean Gaston vs. Braydon "Blonde Bomber" Goss
All this including Camaro Cope, "Yoga Guru" Davey Deals, and more!