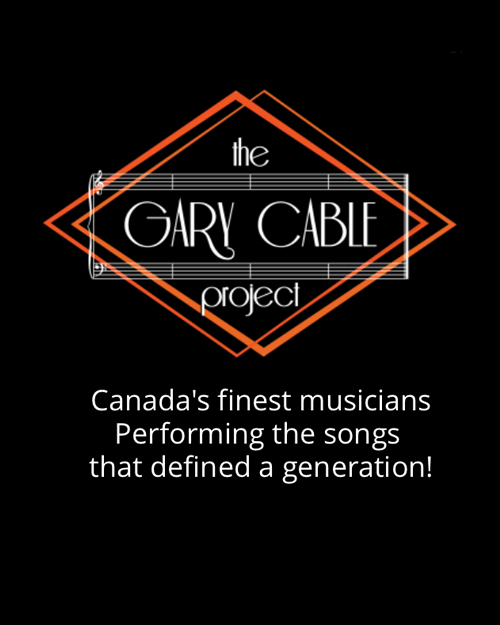 THE GARY CABLE PROJECT w. Special Guests
When
Occurs on Wednesday May 15 2019
Approximate running time: 2 hours
Venue
Event Notes
×
This is the MUST-SEE concert of 2019: Canada's top musicians performing classic hits by Chicago, Lighthouse, Steely Dan, Toto, Blood Sweat & Tears, Santana, Earth Wind & Fire, hristopher Cross, Stevie Wonder, and more!
With Special Guests ALFIE ZAPPACOSTA, DANNY MCBRIDE, and HENRY SMALL (of PRISM) Many people have called their May 2018 performance in Kelowna "the best concert to play in the Okanagan in years". One review of the concert read "Last night's performance in Kelowna was exceptional. To bill this band as one of "legendary" players is almost an understatement. Incredible playing, incredible vocals, and an incredible repertoire to demonstrate the depth of talent...". And now that concert is coming to VERNON !
100% of Proceeds support BC Cancer Foundation's Childhood Cancer Research initiative through The Gary Cable Foundation.
The Gary Cable Project •Legendary Music by Legendary Musicians• is comprised of some of Canada's finest live & session musicians, who have recorded and performed with some of the top musicians in the industry. Gary Cable provides piano, keyboards & Lead vocals, along with:
Vince Mai (trumpet, keyboards, BG vocals) - Sarah McLachlan, Powder Blues, Blood Sweat & Tears
Rod Murray (trombone, BG vocals) - Barbra Streisand, Frank Sinatra Jr., Yes
Steve Hilliam (saxophones, BG vocals) - Gino Vanelli, Colin James, Long John Baldry
Pat Steward (drum, BG vocals) - Bryan Adams, Jann Aarden, Barney Bentall, Payola$
Raphael Geronimo (percussion, BG vocals) - the Gypsy Kings, Oscar Lopez, Pablo Sanchez, Harry Connick Jr.
Gord Maxwell (bass, Lead vocals) - Chilliwack, Ian Tyson, One Horse Blue, Hyperion
Robert Walsh (guitar, Lead vocals) - Natalie Cole, the Pointer Sisters, ESO (incl. Zappa & Queen)
Danny McBride (guitar, BG vocals) - Chris de Burgh, Supertramp, Joe Cocker, Neil Young, King Biscuit Boy