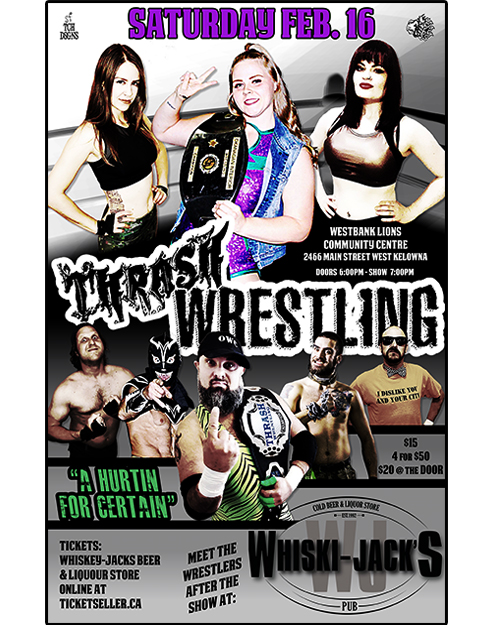 A Hurtin' for Certain
When
Occurs on Saturday February 16 2019
Approximate running time: 2 hours
Venue
Performance Notes
×
We're back in Westbank! The best wrestling action imaginable presented by the Okanagan's most infamous ring warriors!
Okanagan/Interior Champion Bambi Halll is back and just in time to defend her title in a 3-way dance with the "Vixen of Thrash" Jade and the "Queen of the Okanagan" Scarlett Black... The kicker? Its NoDQ!!! "Dragon Revival" Ace Redmann Junior and The legendary Black Dragon are set for tag team action against "The Dudes of Aviation" Top Young Gun - Sean Gaston and Braydon "Blonde Bomber" Goss Thrash Grudge match!
Slave the Homicidal Maniac finally gets Davey Deals one on one! After months of Deals' interference in Slave's matches these two can finally settle the score!
More announcements yet to come featuring Thrash Wrestling Champion MAD DOG Marty Sugar, "Dastardly" Danni Deeds, Jayce D'Arcy, Chucky Lee Ray, "The 1 Man Militia" Codiac Cope and many more!
Tickets are $15 or 4 for $50 and are available at the Whiski-Jacks Beer and Liquor store or online at ticketseller.ca or its $20 at the door. Don't forget to meet the wrestlers afterwards at Whiski-Jack's Pub