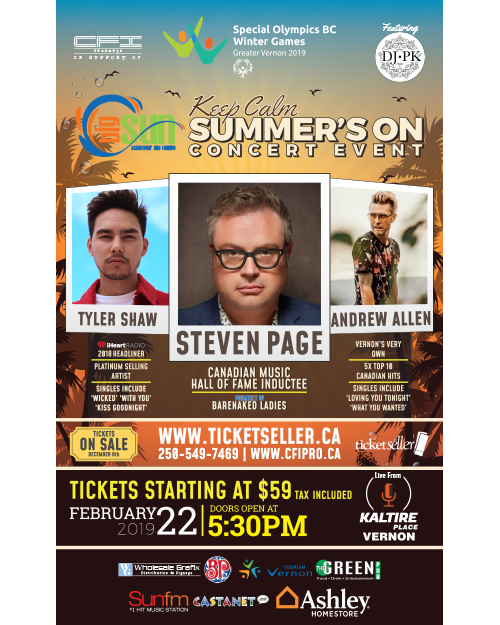 KEEP CALM, SUMMER's ON
When
Occurs on Friday February 22 2019
Approximate running time: 2 hours
Venue
Performance Notes
×
$45 Sections H J K
$59 Sections E F G and L M N
$59 Floor Rows 1 to 25
$75 Left or Right of Catwalk (Rush, Standing)
$75 Sections A to D & P to S

CFI is please to present Big Sun's KEEP CALM, SUMMER's ON concert event featuring Steven Page (formerly of The Barenaked Ladies) Tyler Shaw and Vernon's very own Andrew Allen.

Steven Page is a Canadian Icon! None of this is surprising, as Page was recently inducted into the Canadian Music Hall of Fame with his former band, the Barenaked Ladies. Come and hear him LIVE to sing all of the classic songs we know and love as well as a celebration of his new album Discipline. He has always been a prolific writer of words and hooks, but on Discipline they're delivered with such a clear-eyed confidence and purposeful vision that somehow it feels like an evolution, a breakthrough and a homecoming all at once. Page deploys existential heft, dystopian visions, savage humor and a killer horn section like a many-headed hydra with sights trained squarely on himself – and by extension the question of what it means to be an artist at all in a time like this. Taking cues from the great soul anthems of the 70s, album-closer "Looking for the Light" finds Page ending things on a hopeful note – one stripped of the winking irony and irreverence that have become his signature. And whether it's a spiritual destination, or a promise of better times to come, it's clear that Page is headed somewhere he's never been before – and we're lucky to go along for the ride.

Tyler Shaw is a platinum-selling artist, producer and actor. He released his hit song "Kiss Goodnight" in 2012, and the melodic track quickly hit platinum sales. In 2014 Tyler earned a JUNO Award nomination for 'Breakthrough Artist of the Year.' He then went on to release certified gold tracks "House of Cards" and "Wicked," all from his 2015 debut album Yesterday. Shaw has opened for massive artists such as Shawn Mendes and Alessia Cara, as well as toured with Selena Gomez. Tyler's latest single, the romantic "With You," was released in July 2018. Prior to that, he released new songs "Anybody Out There" featuring Amaal Nuux in May, and the top ten hit "Cautious" at the beginning of the year.



Andrew Allen has scored five Top 10 hits in Canada, 2009′s "I Wanna Be Your Christmas", 2010's "Loving You Tonight" which was lodged in the upper reaches of the charts for more than 22 weeks. 2011's "I Want You", 2015's "What You Wanted" and 2016's "Favourite Christmas Song"! Radio play and songwriting aside, Andrew is a true live performer with an exceptional voice, incredible songs, some serious live looping chops and limitless energy. He's definitely an artist that embodies the term 'live'.