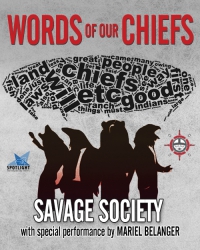 The Words of Our Chiefs
When
Occurs on Wednesday September 5 2018
Approximate running time: 2 hours
Venue
Performance Notes
×
The Vernon and District Performing Arts Centre Society proudly presents Savage Society's Words of Our Chiefs on Wednesday, September 5, 2018 at 7:00pm at the Vernon and District Performing Arts Centre as part of the 2018/19 SPOTLIGHT Special Presentation Series.
The Savage Society performs a staged reading of Words of Our Chiefs; a dramatic enactment of the Laurier Memorial, an historical document petitioning Sir Wilfred Laurier in 1910 by the Allied Chiefs of the Interior Tribes of British Columbia, to recognize and help them fight for aboriginal rights. This powerful document outlines the Aboriginal experience in the BC interior since first contact.
Signed by the Secwepemc, Syilx and Nlaka'pamux peoples at Spences Bridge, British Columbia in 1910, the ideas and emotions expressed in this 108 year old historical document remain relevant to the First Nations experience today. Created with community members of Lytton and the Nlaka'pamux Nation, contributing artists in Words of Our Chiefs include Kevin Loring, Aaron Wells, Kim Harvey, Ron Dean Harris, Sandy Scofield and N'laka'pamux community members.
The performance will be opened by a performance by Mariel Belanger, a Vernon-based multi-disciplinary artist of the Okanagan Nation, Okanagan Indian Band, Vernon. She will be performing her piece These Are Our Laws: Let Us Live/Illegal: Let Us Cry/New Laws, Revelations: Will We Live Again?