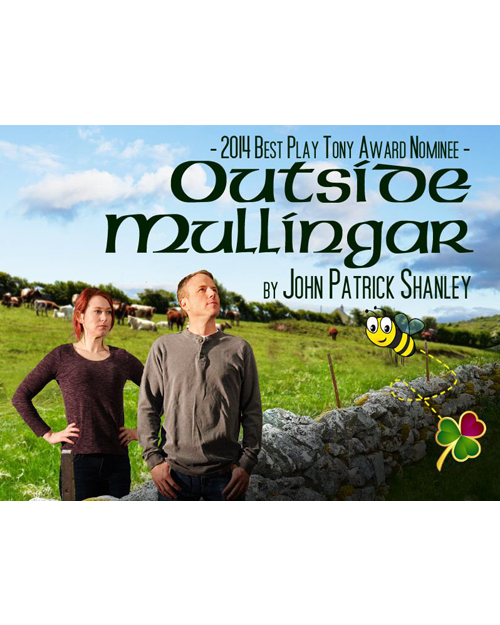 Outside Mullingar
When
Occurs on Thursday May 24 2018
Approximate running time: 2 hours
Venue
Performance Notes
×
Abridged May 2017 review by Vancouver-based Jerry Wasserman
Outside Mullingar is deliciously funny; a twisted comedy about death and love that flirts with — and sometimes embraces — Irish cliches galore.
The play is set on the side-by-side farms of the Rileys and Muldoons. Anthony Riley lives with his widowed father Tony, and Rosemary Muldoon with her recently-widowed mother Aoife [ee'-fa].
The opening scene, on the day of Chris Muldoon's funeral, offers gallows humour in the gift-for-gab style for which the Irish are famous. Describing how a premature baby seemed to get even smaller before he died, Tony tells Anthony, "He shrunk like a sock in the wash."
There will be more deaths before long, arguments about inheritance (Tony threatens not to leave his farm to Anthony but sell it instead to his brother's son, who looks more like a farmer: "He has hands like feet") and a long-simmering property dispute between the Rileys and Muldoons that provides a productive running gag.
The second act love story belongs to Rosemary and Anthony, now living alone on their neighbouring farms. She's thirty-something, he's in his forties. Both are single, adrift ("Seize the day? Seize it and do what, though?"), depressed ("Thinking's worse than February"). The mystery is why they haven't gotten together.
Rosemary calls him "a bit of a lump" and scolds him for his lack of spunk and spark, but it's obvious she cares for him. And what's up with Anthony? She's beautiful, available and right next door, but he seems uninterested.
The gloriously funny catechism with which she finally demands answers from him leads to a revelation so bizarre it's almost a miracle that Shanley manages to make it both howlingly comic and beautifully moving.
Listen to the horror-struck, awe-struck Anthony when Rosemary comes on to him: "You've been chaste as a dove all your life and now you're going on like a pirate!" The script reveals Rosemary's lovelorn vulnerability with her aggressive strength. You really want these two to get together.
Shanley infuses the play with spirituality. Rosemary hates the bible ("They should call it The Book of Awful Stories") but in this Irish countryside characters hear voices, see "signs from heaven" and are "touched by the quiet hand of God." Mullingar seems just the place for these quiet comic miracles.