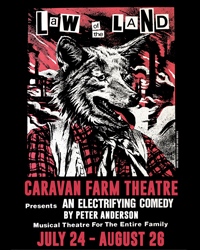 Law of the Land
When
Runs from Saturday August 4 2018 to Sunday August 26 2018
Approximate running time: 2 hours
Venue
Performance Notes
×
WRITTEN by PETER ANDERSON
MUSIC COMPOSED by JOHN MILLARD
DIRECTED by ESTELLE SHOOK
A fast-paced musical farce about energy projects, set in a fictional BC town – a place where coyotes morph into men, cowboys fall in love with environmentalists, crows wax philosophical, and the animals put man on trial. First produced in 1982, Law of the Land is a Caravan Classic, featuring the company's trademark blend of mask, music, physical comedy, and political satire.

Here in beautiful Black Creek, BC, the Grand Opening of the Black Creek Coal Fired Thermal Generating Power Plant is one day away. The Energy Minister and a delegation from Russia, China and the USA have descended to tour the plant (and do a little hunting on the side). But some folks are not happy about it: Clara's ranch sits right next door, and she isn't moving, even though her ranch hands have long since gone to work for the new plant. Hattie the scientist is worried about fluorine levels but no one is listening. Brenda the police officer is busy unravelling a terrorist plot, while Beaver, Cougar, and Deer are having nervous breakdowns. It's a recipe for a referendum! Add two luckless ranch hands, the Lone Ranger, and a wily old Coyote with a plan…. and you get an Energy Crisis of epic proportions.

Law of the Land is a sharp-witted comedy for all ages. There is a ticket price for everyone's pocket, from Early Bird Specials (Book by July 3rd and SAVE) Pay What You Can Tuesdays, and accessible Youth prices, so you can bring the whole family!

Our theatre is an EVENT! Bring your tailgate picnics or sidle up to our concession for great Okanagan food, beer and wines. Come on out to the farm and see what all the fuss is about!
Brought to you by an artistic team assembled from across the country and beyond!

COME ONE, COME ALL!