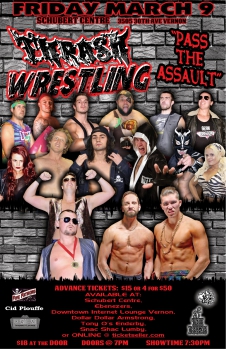 PASS THE ASSAULT
When
Occurs on Friday March 9 2018
Approximate running time: 2 hours
Venue
Performance Notes
×
Look out, people! This is gonna get crazy! Thrash is back with a card that's totally stacked. Best damn wrestling show guaranteed, and here's why...
Cougar Meat is back! The tag teaming specialists, Collin Cutler and Kyle Sebastian, are reunited to defend the Thrash tag team titles against Okanagan's most dominant #1 contenders, "Top Drawer" Michael More and Todd Quality, "Top Quality."
Thrash Wrestling champion Adam Ryder will be set to take on a special challenge against Southern Alberta's Pure Power Wrestling top star Sidney Steele!
Also from PPW the blonde bombshell Angelica comes to make her name in the Okanagan ,but she'll have to spell it out to the "Queen" of the Valley, Kelowna's own Scarlett Black.
The Homicidal Maniac Slave takes on new ground in challenging the fantastic MattXStatic! The men have never met in singles competition before, and it guarantees to be an intense match.
Jayce D'arcy has been smashing through competition month after month in the Okanagan. The young powerhouse will have rabid "Maddog" just one night before Marty Sugar's big title match in Penticton!
More to be announced featuring The Black Dragon, Camaro Cope, Sean Gaston and the "Yoga Guru" Davey Deals.
Tickets are $15 or 4 for $50 and are available at the Schubert Centre, Ebenezers, and the Downtown Internet Lounge (Vernon) Tony O's (Enderby) Dollar Dollar (Armstrong) Snac Shac (Lumby) or buy your tickets online at ticketseller.ca