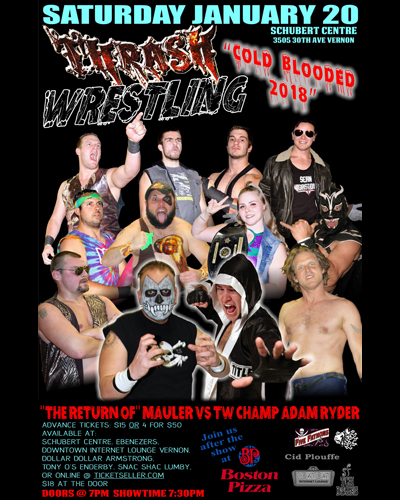 COLD BLOODED 2018
When
Occurs on Saturday January 20 2018
Approximate running time: 2 hours
Venue
Performance Notes
×
Here it is! Thrash is back in the new year breaking down new walls and busting open some new heads! A big show with some bad men doing craaaazy things, so we'll start with the Thrash Wrestling title match!
Adam Ryder has held the TW title for well over 2 years now defending the title against everyone, until now! After a 7-year absence, The Mauler is returning! The terror of the north is back to cash in his title shot that he earned after a bloody match with Slave back at Super Evil 9...whew its a mouthful, but it may just be the most brutal challenger Ryder has yet to face!
"Top Quality" Michael More and Todd Quality are the tag team to beat, but they'll have to get through one more team to get their rightful #1 contender shot for the TW tag titles...The new team of Slave and Camaro Cope, "Vehicular Homicide"!