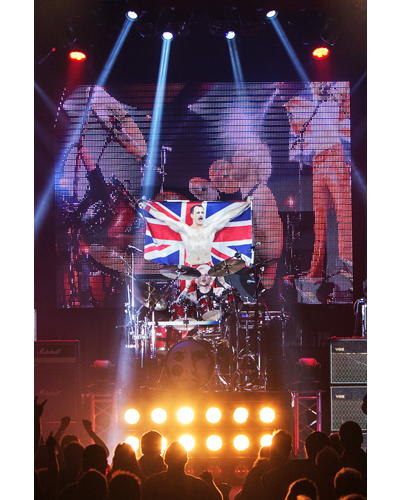 Queen: It's a Kinda Magic
When
Occurs on Saturday May 19 2018
Approximate running time: 2 hours
Venue
Performance Notes
×
The world's premier Queen tribute show, Queen: It's A Kinda Magic, will complete a 20-stop national tour across Canada next Spring - taking fans back to the glory days of Freddie Mercury and his iconic British band Queen.
It will be the first time the show has played in Canada since it's very successful 2015 tour, and the cast is taking the opportunity to revisit past venues and fans as well as adding a few new venues to the schedule.
The show recreates Queen's 1986 World Tour concert and features two hours of the band's greatest hits performed live, including We Will Rock You, Bohemian Rhapsody, We Are the Champions, Bicycle, Somebody to Love and Fat-Bottomed Girls.
Aside from the timeless music, Producer Johnny Van Grinsven attributes the show's continued success to the attention-to-detail - everything from the costumes, instruments and even the lighting cues have been designed to replicate those seen in real Queen concerts.
Making Queen: It's A Kinda Magic extraordinarily authentic is the involvement of Peter Freestone, Freddie Mercury's best friend, biographer, personal assistant and constant companion for the final 12 years of his life. As Production Consultant, Freestone has schooled the cast and producers on the characters and nuances of the original band in order to perfect the performance.
"We're extremely lucky to have Peter involved. He knew Freddie and the boys so well; his knowledge about their personalities, their musical styles, how they moved and played and even their sense of humor has really helped take this show to the next level," says Van Grinsven.
The main benefactor of Freestone's knowledge is front man Giles Taylor who steps on stage as Freddie Mercury. In addition to being the only 'Freddie' impersonator in the world who sings and plays both piano and guitar live on stage, Taylor is also widely-praised for the trademark Mercury wit and cheekiness that he brings to life in the show.
Supporting Taylor in this mammoth stage production - each with jaw-dropping solos that show off their unassumingly good musicianship - are Australians Richie Baker as Brian May on guitar and Kyle Thompson as Roger Taylor on drums, with South African Steven Dennett as John Deacon on bass.
Taylor said, "When people come to the show we aim to have them leaving with the perception that they have just seen the real Queen live. The painstaking attention to detail from the costumes to the insane lighting and visual show is really something to behold and something that Queen themselves would have done in their heyday.