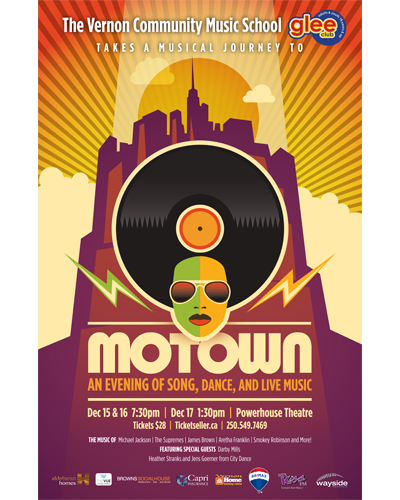 glee club
When
Runs from Friday December 15 2017 to Sunday December 17 2017
Approximate running time: 2 hours
Venue
Performance Notes
×
Come out for Glee Clubs fourth annual show. We are a singing and dancing show choir and guarantee "fun for the whole family". Join us as we take you on a musical journey to MOTOWN Detroit. This performance will entertain you from the moment it starts until the moment it ends! The desire to sing and dance along will be hard to resist! The performance will bring to life the music of Michael Jackson, the Supremes, Marvin Gaye, Aretha Franklin, Earth Wind and Fire, and many more. We will also be featuring the Glee Club's very own band of well known and loved local musicians. We are fortunate to have Vernon's own Darby Mills join us. You won't want to miss her version of "R-E-S-P-E-C-T". Heather Stranks and Jens Goerner of City Dance are also featured.
This is sure to be a hit, so don't delay! Buy your tickets today. Bring your family, this makes a great Christmas surprise.
The Glee club proudly supports our community by donating proceeds from their shows to the Vernon Community Music School.
See you at the show!