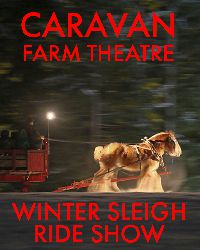 The Gift of the Magi
When
Runs from Tuesday December 12 2017 to Wednesday December 13 2017
Approximate running time: 1 hour
Venue
Performance Notes
×
New York, 1905, Christmas. Della wants a gift for Jim. Jim wants a gift for Della.
Neither of them has enough money, but each of them possesses something precious.
So begins a winter journey of love and sacrifice - with a dose of New York City traffic.
DIRECTED BY ESTELLE SHOOK
MUSIC COMPOSED AND DIRECTED BY ALLEN COLE
SET AND COSTUMES DESIGNED BY VICTORIA WALLACE
LIGHTS DESIGNED BY GILLIAN WHITE
STARRING RANDI HELMERS, TRACEY POWER, AND BILLY MARCHENSKI
MUSIC PERFORMED BY ROB CLUTTON
STAGE MANAGEMENT BY LYSETTE STEVENSON
JOIN US FOR THE WORLD'S ONLY HORSE DRAWN WINTER SLEIGH RIDE THEATRE EXPERIENCE
Tickets will not be refunded.