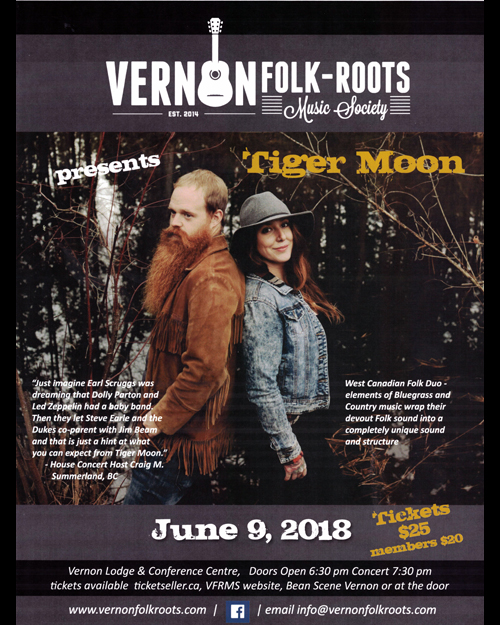 TIGER MOON
When
Occurs on Saturday June 9 2018
Approximate running time: 2 hours
Venue
Performance Notes
×
Tiger Moon is a West Canadian folk duo. Boasting harmonious sounds, heartfelt melodies, and foot-stomping rhythms, this is a pair to be reckoned with. They perform with a guitar, mandolin, two sets of boots and two big, rich voices. Drawing their sound from traditional folk, Canadiana, soul and rock, they are a minimalist barn-burning band with syrup-soaked harmonies.
Tiger Moon came to be in 2012 when Kasey Graff and Dan Tait, each forging their own music careers, found one another in downtown Kelowna. They discovered a beautiful chemistry together and began performing as a duo at jam nights and coffeehouses. Shortly thereafter, the couple became serious about their music together, and about their relationship and began wowing crowds with their rich, harmony-driven sound.
In September 2013, the pair ultimately put their money where their mouth was and sold all their possessions to undertake a massive tour across North America; learning about the land and the people; and sharing their music with the people in every town they visited. Tiger Moon travelled for seven months - over 22,000 Kms - in a 1981 Volkswagen Westfalia, across Canada, from BC to Quebec, down the American eastern seaboard, along the southern states and up the western American coast. They met and jammed with the locals, expanded their musical vision and compiled these new experiences into a lyrical voice.
Kelowna welcomed their return and Tiger Moon started performing at many different venues; pubs, golf courses, wineries, yacht clubs, street corners, coffee shops, parties, wedding & funeral ceremonies, theatres, radio shows, and even an early morning set at a local BC Transit bus stop. They spent the winter of 2014-2015 hosting a jam night and honing their craft at Snowshoe Sam's at Big White Ski Resort - arguably one of Canada's most popular ski bars.