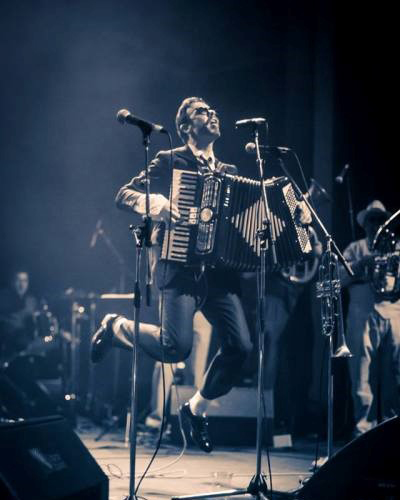 Jack Garton & the Demon Squadron
When
Occurs on Saturday October 21 2017
Approximate running time: 2 hours
Venue
Performance Notes
×
Steeped in the solitude of the mountains and islands of the Pacific Northwest, raised in the boisterous and irreverent East Vancouver arts community, Jack Garton's music is a dance party for the vulnerable at heart. In the lineage of Weird and Wonderful Canadian songwriters Leonard Cohen, k.d. Lang, Corb Lund and Geoff Berner, Garton's songs alchemize brokenness and pride, and celebrate the sheer "absurd difficulty of being alive" (Geoff Berner) with wit and grace. Over the last 10 years while touring Canada, the USA and Europe, Garton has developed a distinctive voice on the accordion, mixing Cajun, European and country styles with ease into an exciting roots music feast. His shows are theatrical, fluid, confessional, and fun. They reflect a lifetime of devotion to the art of live music as well as an impressive breadth of life experience including his roles as a father and husband, local gravedigger, theatre artist and music teacher.
"The sound is punchy and bright, with the instruments perfectly coordinated." Tony Montague, Georgia Straight
The roots roller-coaster band Demon Squadron is the engine behind Jack Garton's Songs. Formed in 2013 and named after Garton's grandfather's special ops flight squadron in WWII, the band is a highly-trained crew of Vancouver's most unique musical talent. From rockabilly to rocksteady, country to Cajun, every show is roots music mayhem executed with classic showmanship and wry humour.
While touring Western Canada, Washington State and Alaska, the Squadron has been honoured to serve on festival main stages, concert halls, theatres, clubs and cook-outs. It's all in the line of duty for BC's rambling servicemen and women as they continue to wage Garton's campaigns of heavy honesty and devasting joy throughout the region.