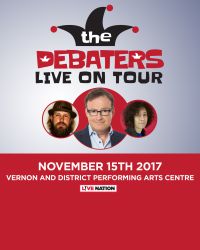 The Debaters Live! On Tour
When
Occurs on Wednesday November 15 2017
Approximate running time: 2 hours
Venue
Performance Notes
×
The Debaters Live is the comedy stage show where comics go toe to toe in a battle of laughs and logic and the audience picks the winner. This special live event features host Steve Patterson and two of his favourite comics performing stand-up and two hilarious debates in the format made popular by the hit nationally broadcast Canadian radio program. Full tour listing and dates below.
Here's what the comics had to say about the upcoming tour:

"I've learned a lot preparing for this tour, like did you know Kamloops is actually a town and not a breakfast cereal?" JON STEINBERG
"Bringing The Debaters experience to these places makes me fully expect to be given several keys to several cities." GRAHAM CLARK
About the Host:
STEVE PATTERSON has been a professional headliner since 1997 and has taped numerous national television specials in the past decade including four Just For Laughs galas. His performance in 2010 earned him a Gemini nomination and caused host Steve Martin afterwards to exclaim, "If I'd have known he was going to be THAT good, I would have cancelled him." Following that performance, Patterson was name Best Male Stand-up Comedian at the 2011 and 2013 Canadian Comedy awards and most recently has been nominated for the 2015 Canadian Screen Awards as Host on HGTV's "I Wrecked My House". Steve's nationally toured and award nominated theatre show entitled "This is Not Debatable" is now available on itunes and his "Book of Letters I Didn't Know Where to Send" is available in bookstores nationwide.
About the Comics:
GRAHAM CLARK resides in Vancouver, BC.  He is a 4-time Canadian Comedy Award winner and co-host of Maximum Fun's Stop Podcasting Yourself. Clark has appeared at Just for Laughs, Halifax Comedy Festival, Winnipeg Comedy Festival and fringe festivals across Canada. He is a winner of the Yuk Yuks Great Canadian Laugh Off and has appeared on HBO's Funny As Hell. Graham is also the creator of beardpaintings.com, where he sells paintings made using his beard as a paintbrush and donates the proceeds to charity.
JON STEINBERG has been flooring audiences across North America for over a decade with his unique and twisted view of the world. A constant professional, Jon has appeared at major festivals including the Halifax and Winnipeg Comedy Festival as well the prestigious Just For Laughs festival in Montreal. A perennial favourite on CBC radios the Debaters, Jon has also appeared on television shows such as "Spun Out", "Really Me", and Global TV's medical drama Remedy. Jon's comedy album "Between Me and the Wall" can be heard on Sirius XM, and is available for download online.
About Live Nation Entertainment
Live Nation Entertainment (NYSE: LYV) is the world's leading live entertainment company comprised of global market leaders: Ticketmaster, Live Nation Concerts, and Live Nation Media & Sponsorship. For additional information, visit www.livenationentertainment.com.