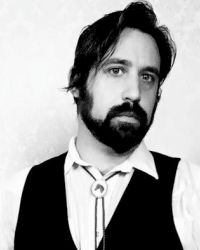 Patrick Alexandre Trio
When
Occurs on Saturday September 23 2017
Approximate running time: 2 hours
Venue
Performance Notes
×
It's time for some seriously good blues and the Vernon Folk-Roots Music Society is proud to launch their 2017/2018 concert series with Roots and Blues Powerhouse singer Patrick Alexandre and his trio:
After three albums fronting swinging band with the F-Holes (The F-Holes 2009, Angel In The Corner 2011, Red Hot 2012), one with Little Miss Higgins (the Juno nominated "Bison Ranch Recording Sessions" produced by Alexandre and Higgins, 2013) and one solo album ("Strange New World" 2015), Patrick Alexandre will be featuring his new material and sixth record recorded in Ladysmith, BC at Risqué Disque Records.
Backed by two of Winnipeg's finest, Dwayne Dueck (guitar) and Jeffrey Laird (drums), Patrick swings seamlessly from guitar to piano, to harmonica, and of course, back to his native instrument, the upright bass. Powered by his unending energy and roaring voice, his animated live performances are always entertaining and they maintain his reputation as one of the hardest working, and intense performers around.
A true do-it-yourselfer, Patrick performs most of the instruments himself, though he managed to fit in an appearance from each of the F-Holes and he engineered, mixed and produced his albums in unconventional and raw settings, done on reel to reel tape.
"I could record the album on a computer, in some ways it's faster. So is driving a car down a horse trail…but you'll probably miss something."Visit our website for the complete 2017/2018 concert line-up: www.vernonfolkroots.com