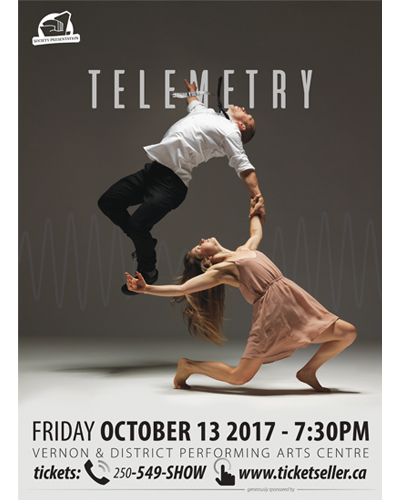 Telemetry
When
Occurs on Friday October 13 2017
Approximate running time: 2 hours
Venue
Performance Notes
×
The Vernon and District Performing Arts Centre Society presents Shay Kuebler's production of Telemetry at the Vernon and District Performing Arts Centre on Friday, October 13 at 7:30pm. Telemetry is the first show in the Society's 2017/18 Dance Series.
Shay Kuebler (Karoshi, Glory) returns to Vernon with raw acrobatic language pollinated by interactive jazz, swing, tap dance and house music. In true Kuebler style, Telemetry blends together tap, theatricality and martial arts to explore how the body translates sound and energy into a purely physical form. Using interactive lighting, video and music, the human body becomes a satellite transmitting signals that inform what happens on stage.
Partly created right here at the Vernon and District Performing Arts Centre during his residency in January 2017, Kuebler brings the finished piece back to our stage with glowing reviews from its recent performances at the 2017 Chutzpah! Festival in Vancouver and the Danse Danse Season at Place Des Arts, Montreal.
Telemetry will feature renowned tap dancer Daniel Nielsen, one of Canada's brightest rising tap talents and a hit on international stages. Surrounded by Kuebler and his ensemble, Nielsen is the control tower guiding the ebb and flow of movement, lighting and sound throughout this interactive dance experience.