Marc Atkinson Trio Friday, February 17, 2023 at 7:30 PM PST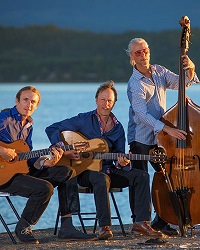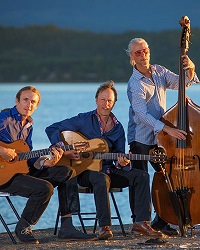 You've selected
Friday, February 17, 2023 at 7:30 PM PST
×
$40.00 Adult
$20.00 Youth
The Marc Atkinson Trio will be appearing with Cam Wilson (Joe Trio, Van Django) at the Performing Art Centre on Friday, February 17, 2023, for a different kind of evening for NOCCA. Marc is a Juno nominated performer, an award winning composer and one extremely talented guitarist in any genre.
Brett Martens plays rhythm guitar and Scott White is on stand-up bass presenting solid back-up and solo performances as well.

Cam Wilson, who performed here in Vernon in May 2022 with Joe Trio, rounds out this quartet with his contribution of virtuosic violin and compositions that have been heard throughout North America and the United Kingdom.

If you enjoy being entertained, this is one show not to be missed.
Venue
Trinity United Church
3300 Alexis Park Drive
Vernon BC V1T 6G5
Performance Notes
MARC ATKINSON TRIO WITH CAM WILSON: From classical to jazz to folk to roots to a little rock. ECLECTIC?
×
General Admission Events will have doors open between 15 minutes and 1 hour prior to start time.
Tickets Non-Refundable