Tricky Business Friday February 4 2022 at 7:00 PM PST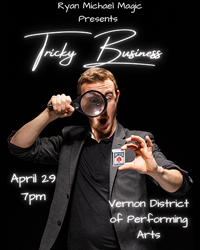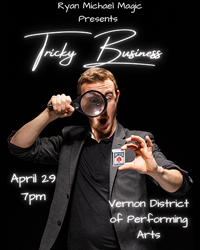 You've selected
Friday February 4 2022 at 7:00 PM PST
×
$40 Adult
$45 Front Row
*includes all fees and tax
for ages 12 and up
PROOF OF FULL VACCINATION WILL BE REQUIRED (2 dose)
Taking home two gold medals at the Canadian Association Of Magicians for Canadian Mentalist of the Year and Close-Up Magician of the year, Ryan's magic has become a must-see experience. Ryan will dive into the minds of the audience, performing world-class mind-reading stunts, side splitting comedy and stunning illusions right before your eyes.
Ryan has sold out every show he's performed in Kelowna, recently including the Creekside Theatre in Lake Country. Due to an overwhelming response, Ryan is taking a theatre stage again on February 4th at the Vernon District of Performing Arts Centre. Ryan will be performing his signature 1 hour magic show, premiering 2 brand new, never before seen effects. With lots of audience participation, along with a special surprise guest to open the evening, this night will truly be magical. Come out for a night of magic, music, wonder and enthrallment with Ryan Michael.
Venue
Vernon and District Performing Arts Centre.
3800 33rd Street
ticketseller.ca
Vernon BC V1T 5T6
Performance Notes
Ryan Michael Lackey is an internationally award winning illusionist and entertainer. Performing hundreds of shows across the country, Ryan has amazed audiences on and off stage for the last decade.
Ryan's blend of astonishing mentalism, comedy and unbelievable illusions create a truly impossible and unforgettable experience. And it all happens in your hands and in your minds!
PROOF OF FULL VACCINATION WILL BE REQUIRED (2 dose)