James Mullinger Embrace Where You Live Comedy Tour Tuesday September 28 2021 at 7:00 PM PDT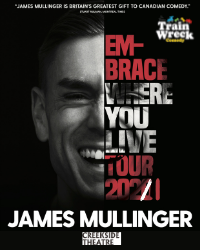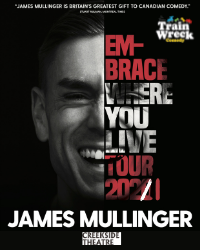 You've selected
Tuesday September 28 2021 at 7:00 PM PDT
×
Tickets are Non-refundable
Covid Two Dose Vaccine Passport is required to attend this show.
On April 28, 2016, James sold out Harbour Station Arena in Saint John, outselling Jerry Seinfeld, Iron Maiden, Def Leppard and Jeff Dunham! The stand up special of the show itself was picked up by Hulu and Amazon Prime so his tales of life in Atlantic Canada are now being enjoyed by people in Germany, Japan and America.
In April 2018 he sold out Harbour Station a second time, this time beating his own record which made headlines across the pond.
James tours extensively to packed houses across Canada and England. A big-budget movie had been made about his early years in stand up (starring actors from Twilight, Downton Abbey and Notting Hill and comedians such as Jimmy Carr, Gilbert Gottfried, Mike Ward and Pete Zedlacher). It was described by NME as the "funniest film of the year," "unmissable" by GQ Magazine and "essential viewing. A funny, realistic look at what it takes to become a stand-up comedian," by the Montreal Times. Watch the trailer here. James is one of Canada's biggest cheerleaders. He loves it here and spends his time promoting it across the world and raising money for charities and non-profits. James has raised more than $100,000 for Canadian charities. He has also become one of Canada's top comics, being nominated for both a Just For Laughs comedy award and a Canadian Comedy Award for Best Live Show.
Please Note: Proof of vaccination for COVID-19 (at least 2 doses) will be required of ALL patrons ages 12 & up, to attend this event. In keeping with current Public Health and extended Interior Health orders, all patrons are reminded of the Province's mandatory mask requirement for all indoor public events.
Venue
Creekside Theatre
10241 Bottom Wood Lake Rd
Lake Country BC V4V 1Y7
Performance Notes
PG-13 with content and topics meant for a mature audience
Covid Two Dose Vaccine Passport is required to attend this show.